Development Policy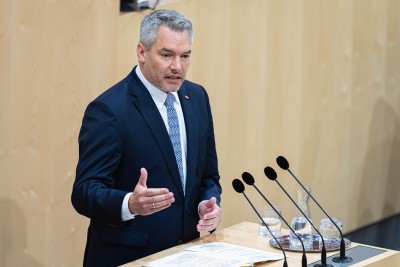 Vice Chancellor Werner Kogler and Foreign Minister Alexander Schallenberg have praised the increase of the Foreign Disaster Fund (AKF) to 77.5 million euros in 2023 before the Council of Ministers.
May 4, 2023
The OPEC Fund for International Development (OFID) approved more than $300 million in new funding in the first quarter of 2023, reflecting the institution's commitment to fulfilling its Climate Action Plan. Three of the four projects approved by the OPEC Fund's Governing Board directly support climate finance.
March 15, 2023
Recently, the Foreign Minister presented an updated version of the goals of Austria's development policy to the Austrian Parliament. If you want to know which goals Austria is aiming for and what this year's focus will be, read on.
August 11, 2022
The Austrian Development Bank, together with Bank Gutmann, has just completed the raising of capital for an investment fund that will benefit developing and emerging countries. A total of 72 million euros is to help improve living conditions in these countries and trigger an economic upswing.
April 15, 2022
The Austrian diplomat Martin Sajdik became President of the Economic and Social Council, which is one of the most important bodies of the UN.
January 15, 2014
47 banking crises that have struck 116 countries in the past 40 years - World Bank
October 8, 2013
"ADA has over 110 million euros funding for operative development cooperation work in 2013" the Austrian Ministry of Foreign Affairs says.
March 6, 2013