Bolivia
Austrian Foreign Minister Alexander Schallenberg has met with Bolivian Vice President David Choquehuanca. Together they talked about the good relations between the two countries and the consequences of the Russian aggression on Ukraine.
March 14, 2023
On July 10, 2019, Austrian Federal President Alexander Van der Bellen welcomed the six newly accredited Ambassadors of South Korea, South Africa, Bolivia, Sri Lanka, Morocco and Sierra Leone to Austria to the Presidential Chancellery of the Vienna Imperial Palace for the presentation of their letters of accreditation.
July 19, 2019
The new Ambassador of the Plurinational State of Bolivia (Estado Plurinacional de Bolivia) to Austria, H.E. Ms. Nardi Elizabeth Suxo Iturry presented Austrian Federal President Alexander Van der Bellen with her letter of accreditation at the Vienna Hofburg. Nardi Suxo is also the new Permanent Representative of Bolivia to the United Nations and the other international organizations in vienna.
July 18, 2019
Bolivian President Morales took part in the annual meeting of the UN Commission on Narcotic Drugs at the Vienna International Center and was in Vienna on this occasion. He also met Federal President Alexander van der Bellen.
March 14, 2019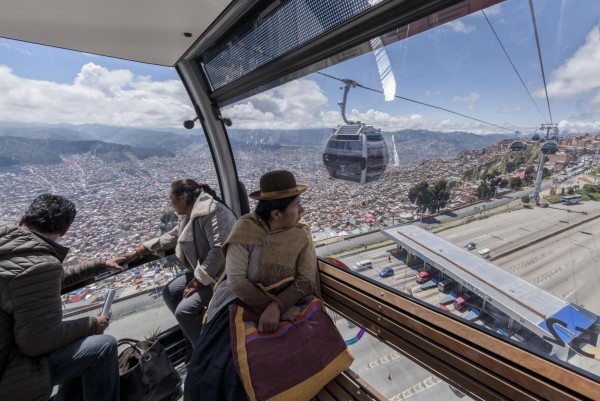 The world's largest ropeway network with a length of 33 kilometers in the Bolivian capital La Paz has recently been completed by a tenth and final line from Doppelmayr/Garavanta.
March 13, 2019
The Mercer's 2014 Cost of Living Rankings have been published and cover 211 cities across five continents. While Western European cities have all risen in the rankings mainly due to the strengthening of the Euro against the US dollar, most cities in Central and Eastern Europe (CEE), however have fallen in the ranking as a result of local currencies depreciating against the US dollar. Bratislava (#84), Prague (#92), Kiev (#98), Ljubljana (#116), Zagreb (#120), Budapest (#135), Warsaw (#142), Belgrade (#184).
July 25, 2014
Bolivian President Morales is still infuriated over the flight incident and considers closing of US embassy in La Paz. He is supported by his counterparts from Venezuela and Ecuador.
July 5, 2013
After the allegedly forced stop of in Austria, Bolivian President Evo Morales has returned to his home country. International criticism arises, also in regard to Austria's actions.
July 4, 2013