Antonella Mei Pochtler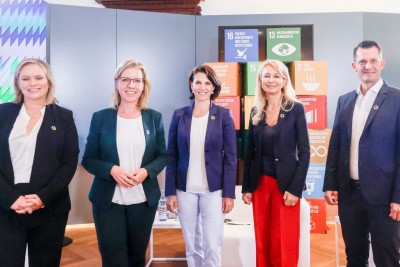 In furtherance of the U.N. 2030 Agenda for Sustainable Development, Austria has created the SDG Dialogue Forum Austria. This new annual event is intended to promote partnerships as described in SDG 17 of the U.N. Sustainable Development Goals. Read about this new event and what Austrian EU Minister Karoline Edtstadler said at its first meeting at the Natural History Museum Vienna.
September 30, 2021
While the Third World War is raging backstage between the USA and China for world supremacy in 5G infrastructure, Huawei wins another milestone in Vienna. Digital City Councilor Peter Hanke has set the goal "Vienna should become the first city in Europe with a complete 5G network". The city is supporting the network expansion with 20 million euros.
May 18, 2020
The Austrian opposition parties have unsuccessfully tried to remove the advisor and one of Chancellor Sebastian Kurz' closest confidants, Roman-born Antonella Mei-Pochtler, from all functions.
May 13, 2020
Following the acquisition of 50.87% of the shares (for at least €36M) from the previous majority shareholders, Fosun Industrial Holdings Limited (Hong Kong Central) is now the new main shareholder of Wolford. The Hongkong financial investor, which is the investment vehicle of Shanghai based Fosun Group, systematically invests in the global fashion and consumer goods industry, and the management of its growing portfolio in the fashion sector was recently put in the hands of Fosun Fashion Group, which holds stakes in the German Tom Tailor Group and the French luxury brand Lanvin, amongst other holdings
May 4, 2018
Today's extraordinary general meeting of Wolford AG resolved to increase the share capital from EUR 36,350,000 to EUR 48,848,227.77 by issuing 1,719,151 new ordinary shares. The issue price (Ausgabebetrag) per new share amounts to EUR 12.80; the total issue price amounts to EUR 22,005,132.80. The new shares have a profit entitlement (Gewinnberechtigung) as of 1 May 2017. The new shares will be issued at a ratio of 20 to 7, i.e. 20 existing shares entitle to subscribe for 7 new shares. The management board was authorized to implement the capital increase by 31 August 2018 and to determine the further details of its implementation.
May 4, 2018
Shanghai based Fosun Group through its Hong Kong (Central) vehicle Fosun Industrial Holdings Limited (Fosun) has taken over control of one of Austria's last remaining lingerie assets. According to Wolford, its new strategic core shareholder has agreed to pay at least €36M for a 50.87% majority stake in Wolford AG. Wolford has been struggling with management problems for some time. It also has been loss making for several years. Fosun Industrial Holdings Limited, a subsidiary of Fosun International Limited (British Virgin Islands) is an investment holding company with interests in asset management and entertainment services. Fosun wants full control of the lingerie maker. Upon the closing of the share purchase agreement Fosun intends to launch a takeover offer to the remaining shareholders. Fosun was co-founded in 1992 by Fudan graduate Guo Guangchang who meanwhile became the 34th richest person in China with a net worth of €7 billion.
March 3, 2018