Refugee Crisis in Poland: European Parliament Presidents Visit Refugee Reception Center in Poland
People
♦ Published: April 21, 2022; 21:37 ♦ (Vindobona)
Poland receives nine European Parliament Presidents, among them also Austria's Federal Council President Christine Schwarz-Fuchs. Together they visited the Polish-Ukrainian border crossing in Dorohusk and the refugee reception center Lwowska as well as the Humanitarian Aid Centre Ptak near Warsaw.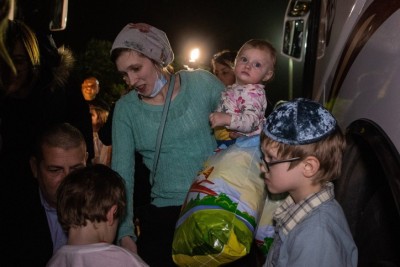 Many Ukrainian refugees, mostly women and children, seek help in directly neighboring countries. / Picture: © Wikimedia Commons / Chabad Lubavitch, CC BY 2.0
Nine European parliamentary presidents from Poland, Belgium, the Czech Republic, Cyprus, Lithuania, Latvia, Spain, Ukraine and Austria recently visited the Polish-Ukrainian border crossing at Dorohusk on the Polish-Ukrainian border as well as the refugee reception center Lwowska and the Humanitarian Aid Centre Ptak near Warsaw.
Representing Austria was Christine Schwarz-Fuchs, who is the President of the Federal Council in Austria.
"Especially when talking to the refugees in Ptak, we got very sad impressions of the misery the war has brought to Ukraine. Especially mothers with their children, who had to leave everything behind, are temporarily accommodated here. Europe must now show solidarity and provide support with all its strength to help the refugees," emphasized Schwarz-Fuchs.
"In Ptak and Lwowska you meet countless children, many of them have come here not with their mothers, but with grandparents or an aunt. These are terrible individual fates, especially of abused women and abducted children, which have made us very alert and concerned. The willingness of Poland and the many volunteers to help is enormous, but more support is needed from European countries here in Poland," Schwarz-Fuchs said during a visit to the Humanitarian Aid Center Ptak, which has a capacity of 20,000 beds and is the largest of its kind in Poland.
Currently, about 6,000 refugees are waiting there for their onward transport to another EU country of their choice.  The final conference in Warsaw is now to be followed by further virtual conferences in which the measures of the individual countries, in particular for humanitarian aid, are to be concretized.
The visit to Poland was followed today by a meeting with the Ukrainian Ambassador to Austria, Vasyl Khymynets, in the Parliament at the Hofburg in Vienna. Ambassador Khymynets thanked the chairperson of the provincial chamber for Austria's enormous solidarity and willingness to help.
He said that many people in the federal provinces had taken in refugees from Ukraine or organized aid transports to Ukraine. Meanwhile, about 60,000 Ukrainians have been officially registered in Austria, the ambassador said.
"We currently have quarters for about 250,000 refugees, but we see that currently more refugees are re-entering - especially in the regions abandoned by the Russian army - than are leaving. Around 95 percent of the refugees accepted in various EU countries also want to return to Ukraine as soon as possible. As soon as the situation there is safe for them again, Ukraine needs help in restoring the destroyed infrastructure. This is where Austria and the other EU countries are needed. Support from European municipalities for communities in Ukraine can then also make a big difference," Schwarz-Fuchs appeals.