Neutrality: Ukrainian President Zelenskyy May Now Be Able to Address the Austrian National Council After All
The ongoing debate on Austrian neutrality will maybe allow Ukrainian President Zelenskyy to speak to Austrian parliamentarians.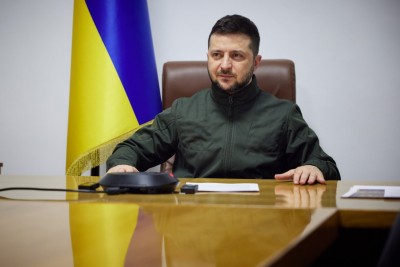 President Volodymyr Zelenskyy. / Picture: © The Presidential Office of Ukraine / Creative Commons Attribution 4.0 International
Since Ukraine was attacked by Russia, Ukrainian President Volodymyr Zelenskyy has been appealing internationally for support. He has already addressed the European Parliament by video, as well as national parliaments in Ottawa, Washington and Berlin.
In Austria, the parliament, the National Council in Vienna, is arguing over whether Zelenskyy should be allowed to address MPs there as well.
In Austria, the debate is about Austrian neutrality. In Austria, many parties and politicians are still at odds and there is a heated debate about Austrian neutrality and national defense
The Austrian Socialdemocrats, SPOE, said, that the President of the National Council, has to decide invitations like this. Joerg Leichtfried of the SPOE underlined, " If such an invitation is issued, the SPOE will not be against it." The SPOE said they follow Austria's condemnation of the Russian war of aggression on Ukraine by the Putin regime in the strongest possible terms and underlined that Austria is never neutral towards violation of international law and human rights. The SPOE expressed their solidarity with the people in Ukraine, who are victims of this war. Further, Leichtfreid underlined, "The goal must be peace and an end to Russian aggression." For the SPOE the priority now is that Austria undertakes massive efforts in the humanitarian field, that the government finally coordinates these efforts properly and intensifies them.
The right-wing populist FPOE in particular opposes a Zelenskyy speech. "We wouldn't want that for Putin either, or any other war party," FPOE chairman Herbert Kickl said, explaining the negative stance. He calls for a more neutral course toward Moscow. Austria should not be part of a "sanctions regime". In addition, there should be a ban on overflights over the national territory, as in Switzerland.
The FPOE is considered to be well-connected with Kremlin leader Vladimir Putin as reported by Vindobona.org. Among other things, the Russian ruler was invited to the wedding of then FPOE Austrian Foreign Minister Karin Kneissl.
The Neos call for a special session in the Austrian parliament next week, while National Council President Wolfgang Sobotka demands that an agreement is reached between the parliamentary groups.
Socialdemocratic Party Austria