International Startup Event "ViennaUP21" Starts April 27
The startup event "ViennaUP21" will take place from April 27 to May 12 in a purely digital format. Within the umbrella of ViennaUP21, 40 program partners will be hosting 100 events for interested people, institutions and organization from more than 45 countries. Registration is free.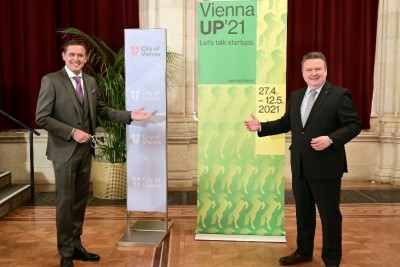 Peter Hanke (left), Vienna's City Councilor for Finance, Economics, Digitalization and International Affairs, and Mayor Michael Ludwig (right) look forward to the ViennaUP21 starting April 27. / Picture: © Magistrat der Stadt Wien / Christian Jobst / PID
From April 27 to May 12, ViennaUP'21 will put Vienna at the center of attention of the global startup community, international investors, talents and organizations for two weeks.
The largest startup event in Central Europe to date is taking place purely digitally due to the pandemic and shows how much a city and its economy can draw strength from collaboration and the emergence of something new.
Coordinated by the Vienna Business Agency, more than 40 program partners, including Vienna's entire startup scene, are joining forces and sending a loud signal of Vienna as a startup and business location to Europe and the world with more than 100 events for two weeks.
Mayor Michael Ludwig:
"Vienna is showing the world: even in times of pandemic, we are a stable and secure economic location that is overcoming the crisis together with its companies. Cohesion and cooperation are the Viennese breeding ground to let innovative ideas like ViennaUP'21 grow and thus set new impulses for Vienna and beyond the city limits."
With a fast-growing, vibrant community, high innovative power, the international orientation and the high degree of professionalization of the local ecosystem, Vienna is a rising star in the European startup landscape. Last but not least, with Bitpanda there is now also an original Viennese unicorn, i.e. a company that is valued at over one billion US dollars on the market. The many young companies are also an economically important factor for the city, as a startup creates an average of 11.2 jobs.
Already at the beginning of the planning phase, ViennaUP'21 aroused the interest of international heavyweights of the startup scene.
Renowned platforms like "WIRED Pulse" play into the program with notable speakers. Thousands of interested people from a total of 45 countries have already registered for individual events.
"Worldwide, more than three million people have been reached so far with the digital communication measures. The number of international investors who will participate in ViennaUP'21 is also impressive," says Peter Hanke, City Councilor for Finance, Economics, Digitalization and International Affairs.
"We set ourselves the goal of attracting the attention of the international investment scene to Vienna. This seems to have succeeded, as more than 100 investors have already confirmed their participation in various program points. In order to network these with startups and talents in a targeted manner, there are, for example, events for special focus groups in the "Investors Summit" format."
In 100 online events, ViennaUP'21 will address current topics in the areas of innovation, creativity and technology and offer its own networking platform via b2Match to connect globally.
Gerhard Hirczi, Managing Director of the Vienna Business Agency:
"The popularity of the target groups already shows: With ViennaUP'21 we have visibly hit the nerve of the time and we have taken a much bigger step forward in positioning Vienna as an international business location than we had planned. ViennaUP'21 makes it possible to experience Vienna internationally as a business location - and we are working on welcoming the thousands of interested parties next year not only digitally, but in real terms here in Vienna at an 'analog' ViennaUP."
Registration for the event is possible at any time via viennaup.com