City of Vienna Will Offer 40-Day Long Festival
The City of Vienna has announced that it will organize the so-called "Kultursommer Wien", a cultural event that will comprise 1,000 performances on 40 different stages through 40 days. Mayor Michael Ludwig wants to "provide perspectives that are good for the heart, brain and soul" during the Covid-19 pandemic.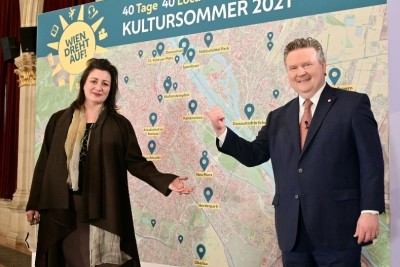 Vienna Mayor Michael Ludwig (right) and Vienna's City Councillor for Culture Veronica Kaup-Hasler present the Vienna Summer of Culture 2021. / Picture: © Magistrat der Stadt Wien / Christian Jobst / PID
Since it is still unclear when the cultural sector will be able to operate without restrictions again, the City of Vienna has decided on a new edition of the "Kultursommer Wien" (Vienna Summer of Culture) and thus ensures the cultural local supply in the city also this year.
Over 2,000 artists will entertain the Viennese with a diverse, high-quality cultural program in 1,000 performances on 40 different stages and locations for six weeks.
The organizer is '"stadt wien marketing", which will design and implement the festival together with a project coordination team set up specifically for this purpose.
As in 2020, programming will be carried out by an artistic board. Applications for participation in the "Kultursommer Wien 2021" are open until the end of March.
A visit to the theater or a concert, a convivial evening with friends, breaking the routine of everyday life through art and culture: all of this has been sorely lacking for many Viennese for months - and it is not yet possible to predict when the Covid-19 pandemic will be history and cultural life as it is known will return to the city.
"That makes it all the more important to provide perspectives that are good for the heart, brain and soul," Mayor Michael Ludwig at the introduction of the upcoming event.
He added:
"We have already proven many times that with determination and good concepts, even during the Covid-19 pandemic, safe events are possible that promote the joy of life and stimulate the economy. That's why Vienna is revving up again this year! The Summer of Culture, which reached over 50,000 people in 2020, will enter a new edition in 2021 - with more stages and an even broader cultural offering. The Viennese can rest assured that we will not be discouraged by the challenges posed by the pandemic, which has already lasted more than a year. We are looking for and finding solutions - for an eventful and safe summer in Vienna!"
City Councillor for Culture Veronica Kaup-Hasler commented:
"Also for the Vienna Summer of Culture 2021 applies: with this event, we are not only creating prospects for the public, but also for the artists and the entire event industry. Already last year, the City of Vienna demonstrated courage and spontaneity with the Summer of Culture. Vienna also received international recognition for this, as we were the first major European city to manage to organize a major cultural festival again after the Covid-19 wave in spring 2020."
For six weeks - from the beginning of July to mid-August - the entire city becomes a stage.
Art and culture are to be present as comprehensively as possible in the city area, i.e. also and especially on the periphery, where the city is growing the most.
A total of around 40 venues will be played host to more than a thousand acts.
In addition to the tried and tested Kultursommer 2020 stages, numerous new locations are planned this year, for example in Herderpark (1110), in Neu Marx (1030), in Kongresspark (1160), in Alt Erlaa (1230), in Mühlschüttel Park (1210) or at the Janis Joplin Promenade in Seestadt (1220).
Depending on the size of the stage, there will again be maximum limits on the number of visitors.
Performances will take place from Thursday to Sunday, with two "acts" per evening.
Appropriate Covid-19 prevention measures and security concepts that can be flexibly adapted to the legal situation in force at the time of the event will be in place.
Pop, rock and hip-hop, soul, indie and classical music, dance, theater and performance, cabaret, comedy and improv theater, readings, spoken word and poetry slam, transcultural, participatory and interdisciplinary formats, contemporary circus, figure and object theater, jazz, folk and songwriting, electronic and experimental music, Austropop, Viennese song, folk music and Schlager: there is room for all of these under the umbrella of the Kultursommer.
This year, the program for children and young people will be significantly expanded.
In addition, there will also be a separate outdoor location, where Viennese club operators, who have had to keep their venues closed for more than a year now, have the chance to do what they do best.