Beijing's Influence Towards Austria: Visit by Wan Gang, the High-Level Leader of the Overseas Chinese Voice
Wan Gang, a high-ranking Chinese politician, engineer and Chairman of the China Zhi Gong Party (Sub-organization of United Front of China) visited Austria to consolidate the network of benevolent institutions, agencies and patriotic overseas Chinese and to strengthen China's economic and political influence.
From left: Chairman of the China Zhi Gong Party (Sub-organization of United Front of China) Wan Gang, and China's Ambassador to Austria Li Xiaosi. / Picture: © Parlamentsdirektion / Johannes Zinner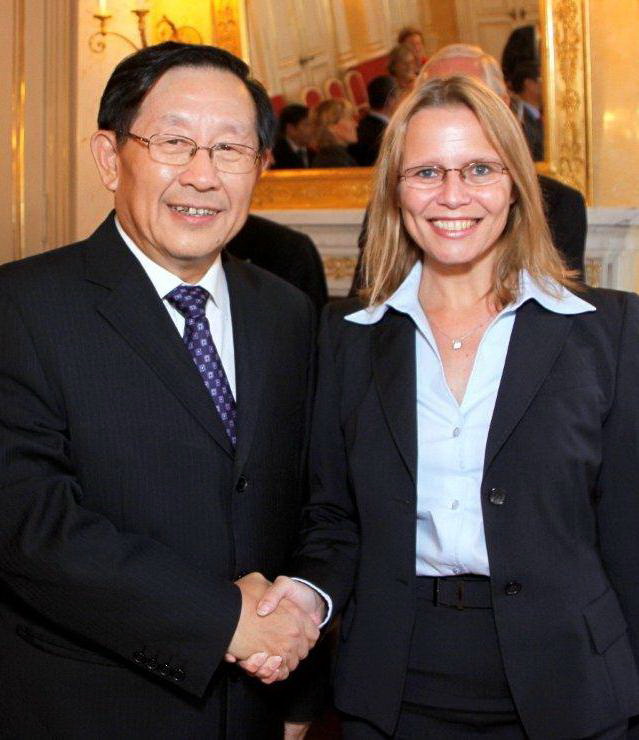 Wan Gang (69), a Han Chinese from Shanghai, has had a colorful career.
Born in 1952, he graduated from Northeast Forestry University in Harbin in northern China in 1981. He then earned a master's degree in engineering from the famous Tongji University in his hometown in 1981.
Then began his nearly 19-year relationship with Germany, the study destination of choice for most Chinese engineers.
In 1990, he earned a doctorate in engineering from the relatively small Clausthal University of Technology in Lower Saxony.
Audi AG in Ingolstadt, Germany, urgently needed qualified engineers who spoke German and Chinese for its market entry in China in the early 1990s. He stayed with Audi until 2002, became an automotive expert and passed through various positions as program manager and manager in Ingolstadt.
In 2002, he returned to Tongji University as Professor of Automotive Engineering and Dean, and later as Director. Shanghai Tongji University and Beijing University (Beida) are the two most renowned universities in China.
In 2004, he became its president. He remained their president until 2007.
As the crowning achievement of his official political career so far, he was appointed Minister of Technology in the Chinese Ministry of Science and Technology in April 2007, a position he held until 2018.
Since 2013 he is also Vice Chairman of the Chinese People's Political Consultative Conference.
Wan Gang's role within the China Zhi Gong Party
What is largely unnoticed and underestimated is his career and role within the China Zhi Gong Party (Public Interest Party), an officially sanctioned partner party of the Chinese Communist Party, with the very specific function of shielding overseas Chinese students and other overseas Chinese from the respective outside world and "encouraging them to perform patriotic deeds for the benefit of their motherland", such as bringing science and technology back home to advance China's economic and social development.
Three years after Wan Gang returned to Shanghai, he joined the China Zhi Gong Party in 2005.
When Wan Gang was appointed Technology Minister of China in April 2007, he was already Deputy Chair of the Zhi Gong Party Central Committee. Six months later, he became its Chairman.
What does the China Zhi Gong Party do?
The China Zhi Gong Party is one of the eight legally recognized minor political parties in China, subordinate to the CCP Chinese Communist Party and represented in the Chinese People's Political Consultative Conference (CPPCC), a main organization of the United Front.
The Zhi Gong Party was founded in October 1925. At the Third Party Congress in 1947, the party oriented itself politically to the left.
Since then, it has been a mouthpiece for overseas Chinese.
It has maintained this role even after the founding of the People's Republic of China.
Some experts have described the party as an association of nonpartisan voices in support of the party. As part of the CCP's reorganization of the minor aligned parties in 1949, the China Zhi Gong Party was designated as the party of returned overseas Chinese, their relatives, and noted figures and scholars who have overseas ties.
The Zhi Gong Party appears to be used as an intermediary for contacts with certain foreign interests. For example, when a delegation of Paraguayan politicians visited Beijing in 2001 and met Li Peng (despite Paraguay having diplomatic relations not with PRC but with ROC in Taiwan), it was invited not by the PRC government or the CCP, but by the Zhi Gong Party.
China's non-Communist parties have a combined membership of more than 700,000, or one percent of the 73 million of the Communist Party of China (CPC). They represent specific interest groups, reflect complaints and suggestions from all walks of life and serve as a mode of supervision of the CPC. They were all established before the PRC was founded in 1949. The oldest, the China Zhi Gong Party (China Public Interest Party), has 83 years of history.
What role does the China Zhi Gong Party play within the United Front of China?
The United Front of China is a political strategy of the Chinese Communist Party involving networks of groups and key individuals that are influenced or controlled by the CCP and used to advance its interests.
In addition to the China Zhi Gong Party, the United Front includes
seven legally-permitted political parties,
the Chinese People's Political Consultative Conference (CPPCC),
the All-China Federation of Industry and Commerce,
the China Council for the Promotion of International Trade,
the All-China Federation of Returned Overseas Chinese, and
other people's organizations.
Under Xi Jinping, the United Front and its targets of influence have expanded in size and scope. It encompasses numerous subservient front organizations and affiliates outside of China, which tend to obfuscate or downplay any association with the Communist Party.
Mao credited the United Front as one of his "Three Magic Weapons" against the Kuomintang, alongside the Leninist Chinese Communist Party and the Red Army, and credited the Front with playing a part in his victory.
The Chinese government has repeatedly stated that the appointment of Wan Gang as Technology Minister of China made him the first member of the government since the 1950s who was not officially a member of the Chinese Communist Party. This is not true, however, considering that Wan Gang's China Zhi Gong Party is virtually the CCP's foreign mouthpiece and an extremely important strategic cooperation partner.
Unfortunately, Chinese organs are often poorly understood outside China because there are no equivalents for them in the West.
These and other influencing tactics by China are taking place against the backdrop of an escalating power struggle for the leadership role in a new world order.
Wan Gang met Second National Council President Doris Bures
The Austrian Parliament has only the following to say about last week's meeting between the Second National Council President Doris Bures and Wan Gang:
"The Second National Council President Doris Bures met a high-ranking Chinese delegation led by the Vice Chairman of the National Committee of the Chinese People's Political Consultative Conference, Wan Gang, who is currently paying an official visit to Vienna.
The dialogue with China today is marked by the 50th anniversary of intensive bilateral relations. Especially the manifold economic relations between Austria and China have developed dynamically in the recent past.
China is Austria's most important economic partner in Asia. Even though there have been recent slumps due to the pandemic, bilateral trade has increased massively again this year by 30 percent.
Today, China is a decisive partner in solving global problems, such as climate protection, and it is gratifying to note that there have been increasing signs of constructive dialogue here recently and that the hard line between the United States and China has been eased following the change in the US administration."
In May 2021, Austria and China celebrated the 50th anniversary of the establishment of diplomatic relations
Comments from the then Foreign Minister, Alexander Schallenberg, were as follows:
"Since 2018, Austria and China have also been linked by a "Friendly Strategic Partnership", with the aim of strengthening cooperation not only at the bilateral level, but also at the multilateral level. The importance of this cooperation at all levels is particularly evident in current global challenges, such as health and environmental issues.
Relations between China and Europe are not free of challenges. It is therefore also a priority for me to contribute to the development of the European Union's relations with China and with Asia. After all, only in a well-established and stable regional environment can bilateral relations also develop further in terms of reciprocity, sustainability, rule of law and strengthening multilateral cooperation."
What was Wan Gang's political mission in Austria
Wan Gang's target audience, however, is likely to have been various institutions and facilities that are mainstays of cooperation and exchange between China and Austria.
Austria's universities are in demand among students from China. At last count, around 1,300 students from China were enrolled at Austrian universities. Sinology studies at Austrian universities are also in high demand, with 750 students enrolled at last count. The China Center at the University of Salzburg is a great success, as is the Confucius Institute at the University of Vienna, and the opening of a second Confucius Institute illustrates the growing interest of Austrians in China.
Quite a few Chinese student associations in Austria, representing over 1,300 students from the People's Republic of China, not only organize celebrations and cultural events, but are also part of a worldwide puzzle of organizations.
These associations, which may number in the thousands worldwide and have been meticulously pieced together by Beijing, support the ideology and goals of the Chinese Communist Party, and its view of the world, among both Chinese and disinformed foreigners, and seek to ensure that its citizens abroad and other people of Chinese descent remain loyal to the ideals of the CCP.
Beijing's greatly increased will to project its power onto the territory of other countries, and to promote political and economic espionage, be it alleged intellectual property theft or the surveillance and coercion of expatriate Chinese, is perceived by the U.S. and Anglo-Saxon countries, but not by naive, gullible, and locally focused European politicians.
The importance of the United Front of China and its China Zhi Gong Party sub-organization will grow as tensions between China and the West increase.
Xi has instructed the organization to become stronger and better in the face of increasingly fierce challenges from the West, which wants to push China back, a senior Communist Party official said recently.