Vienna Police - LPD Wien
Amid an escalating Middle East conflict and subsequent massive military clashes between Israel and the terrorist organization Hamas, Austria's Interior Minister Gerhard Karner has ordered increased surveillance of Israeli facilities in the country. The measure is aimed at ensuring the safety of citizens and facilities that could potentially be targeted for attacks.
October 11, 2023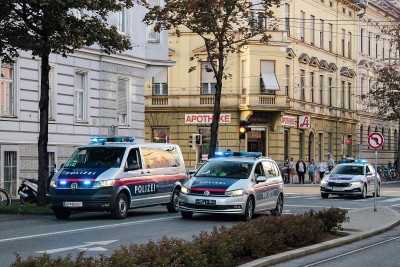 In a sensational move, police authorities in Germany and Austria have launched extensive investigations into a German car-sharing company, overshadowed by a blatant suspicion of multimillion-dollar parking fee fraud. The investigations are targeting the company's directors and involve alleged offenses such as gang crime, fraud, and document forgery.
October 11, 2023
To support the police and secure embassies and other critical objects in Vienna, the Austrian Armed Forces have extended the duration of their assistance mission until March 31, 2024.
September 17, 2023
Police officers from the Schwechat police and the Vienna police, in cooperation with the Vienna public prosecutor's office, managed to track down and break up a group of Indian smugglers.
February 14, 2023
The reporting procedure will now be automated through the project "Safe Registration Office" in Austria. This is to prevent crime, the Interior Ministry said. In addition, the "Safe Registration Office" should in future also offer a possibility for a simplified report to the local police station.
January 9, 2023
A Greek citizen of Russian descent allegedly spied on state secrets for Russia in Vienna. The Office for the Protection of the Constitution unmasked the 39-year-old son of a former diplomat as a Russian spy. During the house search, the police also found listening devices, as well as other compromising materials.
December 19, 2022
Next year, Vienna will have the special honour of hosting the General Assembly of the International Criminal Police Organisation, or Interpol. The Assembly is particularly special because the international organisation will be celebrating its centenary next year.
October 27, 2022
A report has recently been published that evaluates the success of the joint effort between the USA and Austria in preventing and combating serious crimes.
August 5, 2022
The Ukrainian ambassador, Vasyl Khymynets, recently criticised the Austrian police. The police had previously held an internal training event on the subject of Ukraine. Among others, the "Coordination Council of the Organisation of Russian Compatriots" was invited to the event, which played down the war and spread "Russian propaganda". The Ukrainian Embassy is outraged. Read on if you want to learn more about this exciting topic!
August 3, 2022