Ralf Beste
After only two years in Vienna, Germany's ambassador to Austria is set to become head of the culture and communications department in Berlin under Annalena Baerbock.
January 12, 2022
Due to COVID-19 restriction a limited delegation of political and diplomatic representatives gathered on Sunday in the Mauthausen Concentration Camp for the traditional commemoration of the 76th anniversary of its liberation while honoring the memory of the dead.
May 17, 2021 · Updated: May 17, 2021; 19:44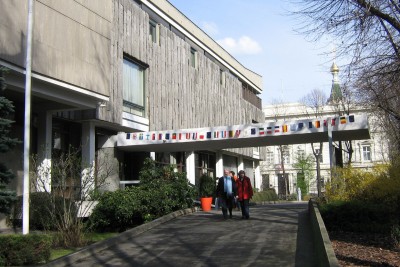 The rich history of the building(s) of the German Embassy in Vienna reflects both the history of Germany and its relationship with Austria.
May 10, 2021
Ralf Beste, Germany's ambassador to Austria, and his fellow countryman Martin Selmayr, representative of the European Commission in Austria, met to discuss the year of 2020 and the German Presidency of the EU Council, which will be ending on December 31. Both politicians underlined the importance of the European Union in finding solutions for international problems.
December 29, 2020
US Ambassador Traina and British Ambassador Turner took part in a discussion about the world after corona at the Austrian News Days. Both recognized the rise of social media and its significant role in today's world.
September 24, 2020
The newly appointed Ambassador of the Federal Republic of Germany H.E. Mr. Ralf Beste met the First President of the National Council Wolfgang Sobotka in Parliament.
October 15, 2019
The new Ambassador of the Federal Republic of Germany to Austria, H.E. Mr. Ralf Beste presented Austrian Federal President Alexander Van der Bellen with his letter of accreditation at the Vienna Hofburg. He succeeds Ambassador Johannes K. Haindl in this position.
September 20, 2019