Ozan Ceyhun
The invitation of the Turkish Embassy in Austria was accepted by numerous representatives of the diplomatic corps, representatives of Austrian state institutions as well as prominent members of the large Turkish diaspora in Vienna. The reception on the occasion of the celebration of the 99th anniversary of the founding of the Republic of Turkey took place in the Strauss Hall of the Vienna Kursalon.
October 30, 2022
Governor Hans Peter Doskozil received ambassadors of foreign representative authorities at the Martinsschlössel in Donnerskirchen in the Austrian province of Burgenland.
June 15, 2022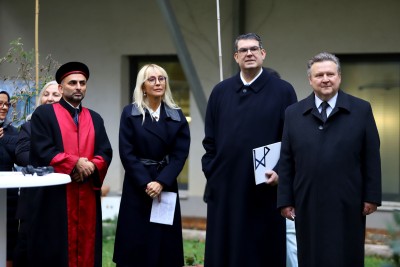 Vienna Mayor Michael Ludwig, representatives from the religious communities in Vienna, and others took part in a remembrance event for the November pogroms at the location of one of the synagogues that was burned down in 1938. Read more about the solemn event and what Mayor Ludwig said.
November 10, 2021
The new Ambassador of the Republic of Turkey to Austria, H.E. Mr. Ozan Ceyhun presented Austrian Federal President Alexander Van der Bellen with his letter of accreditation at the Vienna Hofburg.
February 26, 2020