November pogroms
On the 84th anniversary of the November pogroms, representatives of the Republic commemorated the victims with a wreath-laying ceremony at the Shoah Name Wall Memorial in Ostarrichipark. In addition to Federal President Alexander Van der Bellen and the head of government, almost all members of the government took part.
November 9, 2022
The Austrian government unveiled the new Shoah Wall of Names Memorial on the 83rd anniversary of the November pogroms. Chancellor Schallenberg, EU Minister Edtstadler, and others spoke at the event. Read about the new memorial, what the leaders said at its opening, and watch a video of the event.
November 10, 2021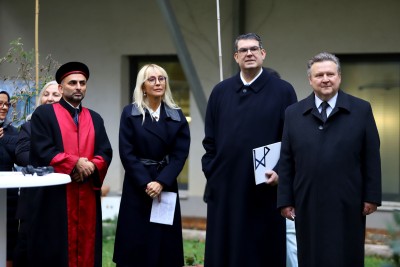 Vienna Mayor Michael Ludwig, representatives from the religious communities in Vienna, and others took part in a remembrance event for the November pogroms at the location of one of the synagogues that was burned down in 1938. Read more about the solemn event and what Mayor Ludwig said.
November 10, 2021