Michel Barnier
At the EU Council of the heads of state and government, Chancellor Kurz demands better coordination of travel restrictions, quarantine periods and testing with regard to Covid-19. Other topics on the agenda were the Brexit negotiations, foreign relations, and climate protection.
October 16, 2020
Brexit chief negotiator Michel Barnier was in Vienna to meet several members of the new government, including Chancellor Brigitte Bierlein and Foreign Minister Alexander Schallenberg. Officially, the Brexit negotiations were the focus of the talks, however, unofficially Barnier repeatedly shows interest as Jean-Claude Juncker's successor in the office of EU Commission President.
June 11, 2019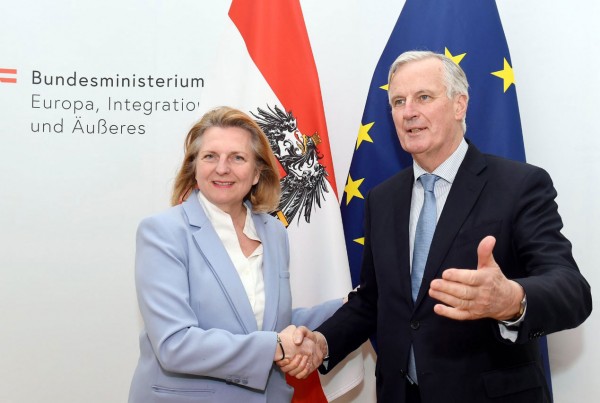 The Brussels chief negotiator for the Brexit, Michel Barnier, visited Vienna for talks with Foreign Minister Kneissl, Chancellor Kurz and Chancellery Minister Blümel. The agenda of the meeting included an exchange on the current state of the Brexit negotiations and the future relationship between the European Union and the United Kingdom.
March 1, 2019
As of March 29, 2019 at 11.00 p.m. (UTC Universal Time Coordinated) or March 30, 2019 at 00:00 (CET Central European Time) the United Kingdom is no longer an EU member and is to be treated as such by Austria. In order to close the legal gaps in the course of a disorderly Brexit, a comprehensive law is in preparation. This law will be subject to numerous amendments in several Austrian ministries. The main areas affected are civil rights (in particular right of residence, social security), transport and customs. In following we look at the effects of the No-Deal-Brexit on travel behaviour.
February 13, 2019
The Finance Ministers of the Eurogroup countries are discussing the future of the banking union in Brussels today.
December 17, 2013
Tuesday night the Finance Ministers of the European Union have gradually approached on the outstanding issues in the handling with banks threatened by bankruptcy.
December 11, 2013