Johann Gudenus
Traditionally close to the Kremlin, Austria's Freedom Party is currently part of a thriller in parliament. Its party finances and any contracts with the Russian party United Russia are still not largely known, even after a year of war in Ukraine.
February 22, 2023
The Austrian Freedom Party (FPÖ) has announced that it will not extend a memorandum of understanding (MoU) with the United Russia (Единая Россия) party, a nationalist-conservative rallying party. It is the party with the largest membership in the Russian Federation under party leader Dmitry Medvedev, who supports Vladimir Putin's course. However, Russia can still rely on other former Austrian politicians. Read on to see who the most prominent supporters are.
December 16, 2021 · Updated: January 4, 2022; 14:50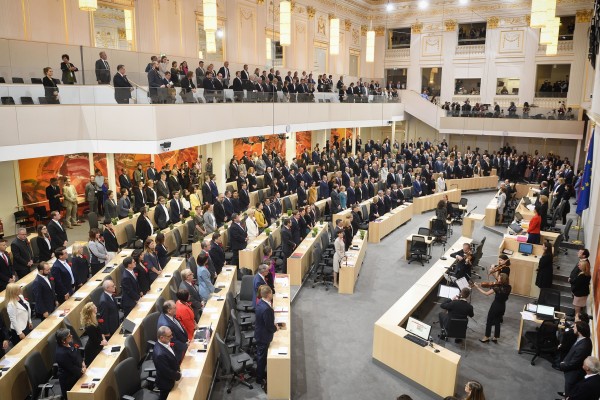 How corruptible is Austrian politics? This question was explored by the deputies in the National Council session when discussing the recently published final report of the Ibiza-Affair Investigation Committee. Although the report was unanimously acknowledged, the parties were far apart in their conclusions.
September 23, 2021
Former vice chancellor and the ex-head of the Austrian Freedom Party (FPÖ) Heinz-Christian Strache has been sentenced to 15 months' conditional imprisonment for bribery at Vienna's regional court. The co-defendant and owner of the private clinic in Vienna-Währing, Walter Grubmüller, was sentenced to twelve months for bribery, also on probation.
August 27, 2021
A secretly recorded video led to the fall of Austrian Vice Chancellor Heinz Christian Strache and Deputy Leader of the Freedom Party Johann Gudenus in May. Now the journalists of the Süddeutsche Zeitung who took part in the unveiling describe what else could be seen on the Ibiza video and how Strache was tempted to behave corruptly.
August 22, 2019
After the release of the incriminating video of "foreign secret services" and the resulting resignation of Vice-Chancellor Heinz Christian Strache, the Austrian People's Party (ÖVP) headed by Federal Chancellor Sebastian Kurz calls for early elections as soon as possible. He had also informed the Federal President Alexander Van der Bellen. "Enough is enough", Kurz said in a press statement on Saturday evening.
May 18, 2019
Recently the Österreichisch-Deutsches Länderforum e.V. was founded in Vienna by Dr. Harald Wögerbauer with the intention of offering a platform for deepening German-Austrian relations.
May 2, 2018