Franz Fischler
Since this year marked the 25th anniversary of Austria as a member country of the EU, the House of the EU in Vienna will display an appropriate exhibition in its windows until January 7, 2020. This exhibition can also be viewed virtually through a 3D tour, in case a visit to the EU House will not work out.
December 10, 2020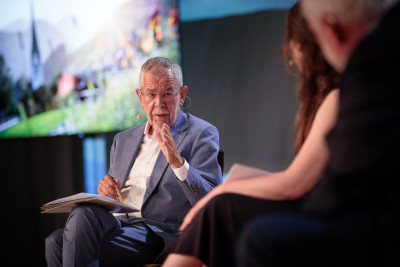 Austria's Federal President Alexander Van der Bellen opened the 75th European Forum Alpbach with his speech that focused on international cooperation and an environmentally friendly and sustainable future.
August 26, 2020
The European Forum Alpbach will be opened by Austria's President Alexander Van der Bellen on August 23 and will host various outstanding speakers, either in person or virtually, for 12 days.
August 18, 2020
Bank manager Andreas Treichl is scheduled to take office as President of the European Forum Alpbach in 2021, succeeding Franz Fischler. Already this autumn, Philippe Narval, Secretary General and Managing Director of the European Forum Alpbach, is to hand over the reins to the entrepreneur and investor Werner Wutscher.
May 14, 2020
From 27 to 30 September, the third Vienna Humanities Festival will once again bring together leading figures from science, art and culture in an "urban salon" lasting several days. Around 40 events will be held themed "Power & Powerlessness" to discuss the major issues of our time.
September 14, 2018
The godfather of the christening of an Austrian Airlines turboprop at Innsbruck-Kranebitten Airport was the former EU Commissioner and Austrian Minister of Agriculture Franz Fischler in his capacity as the President of the European Forum Alpbach
January 22, 2015
EU Commissioner for Economic and Monetary Affairs Olli Rehn can see the first signs of an economic turn-around in the European Union.
August 29, 2013
The International Institute for Applied Systems Analysis (IIASA) and the European Forum Alpbach have entered into a strategic partnership aimed at fostering sustainable solutions to global problems.
May 7, 2013
Distinguished participants from industry, politics and the business community such as Václav Klaus, Jerzy Buzek, Franz Fischler, Martin Meyer, Jan Zielonka, Iain Begg, Prince Hans-Adam II of Liechtenstein are currently dicussing this issue in Vienna.
January 22, 2013