Frans Timmermans
The Time to Decide Europe Summit, a one-day conference co-organized by ERSTE Foundation and the Institute for Human Sciences (IWM), is set to address the most pressing dilemmas posed by the war in Europe. The conference will bring together prominent thinkers, political scientists, and economists to untangle the urgent questions facing Europe today and offer insights into the future of the continent.
May 11, 2023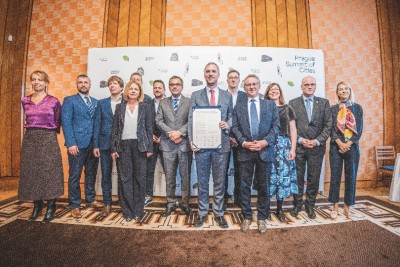 The 11th Annual Dialogue of EU Capitals with the European Commission took place recently. A representative of the City of Vienna was also present. Read on to find out what goals and issues the EU capitals are currently facing.
September 30, 2022
Vice-President of the European Commission and Commissioner for Climate Action Frans Timmermans met Vienna's Mayor Michael Ludwig at a working meeting in Vienna today. The main topic of discussion was the importance of cities in the implementation of the European Green Deal and what measures Vienna is taking to achieve CO2 neutrality.
June 14, 2022
Arnold Schwarzenegger and Federal Chancellor Kurz stress the need for effective climate protection.
January 29, 2020
At the heart of the new Commission's work is the need to address the changes in climate, technology and demography that are transforming European societies and way of life. Von der Leyen has structured and presented her team according to these requirements. Read below where the 27 commissioners come from and what they represent.
September 10, 2019