Evo Morales
Russian President Vladimir Putin answered APA CEO, Dr. Clemens Pig's questions about Austria-Russia relations, Belarus, freedom of movement, and freedom of information at the 24th St. Petersburg International Economic Forum (SPIEF).
June 29, 2021
The new Ambassador of the Plurinational State of Bolivia (Estado Plurinacional de Bolivia) to Austria, H.E. Ms. Nardi Elizabeth Suxo Iturry presented Austrian Federal President Alexander Van der Bellen with her letter of accreditation at the Vienna Hofburg. Nardi Suxo is also the new Permanent Representative of Bolivia to the United Nations and the other international organizations in vienna.
July 18, 2019
Bolivian President Morales took part in the annual meeting of the UN Commission on Narcotic Drugs at the Vienna International Center and was in Vienna on this occasion. He also met Federal President Alexander van der Bellen.
March 14, 2019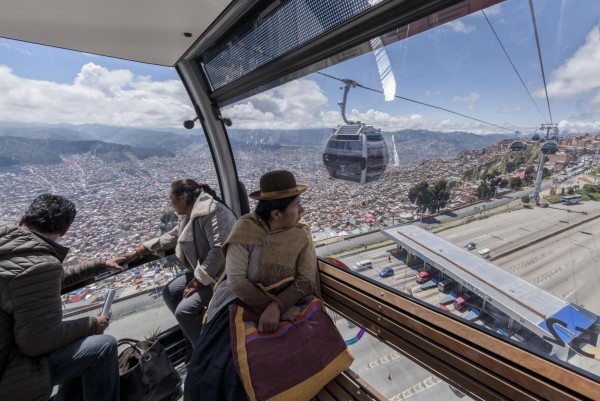 The world's largest ropeway network with a length of 33 kilometers in the Bolivian capital La Paz has recently been completed by a tenth and final line from Doppelmayr/Garavanta.
March 13, 2019
Bolivian President Morales is still infuriated over the flight incident and considers closing of US embassy in La Paz. He is supported by his counterparts from Venezuela and Ecuador.
July 5, 2013
After the allegedly forced stop of in Austria, Bolivian President Evo Morales has returned to his home country. International criticism arises, also in regard to Austria's actions.
July 4, 2013