Doppelmayr Seilbahnen
The Israeli-Austrian economic partnership is becoming increasingly important. Now Foreign Minister Schallenberg and Economics Minister Schramböck visited the Israeli state to intensify economic relations and to attend the opening of a major infrastructure project with Austrian participation.
March 31, 2022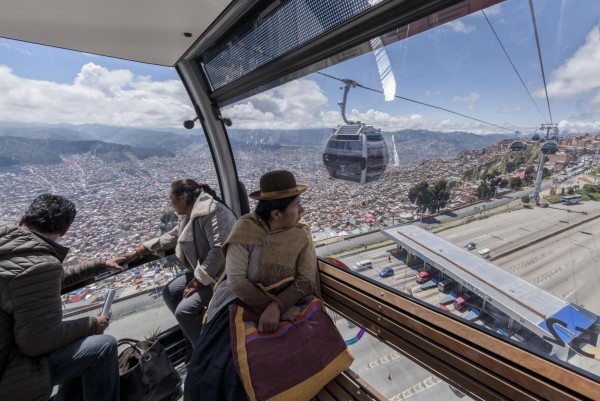 The world's largest ropeway network with a length of 33 kilometers in the Bolivian capital La Paz has recently been completed by a tenth and final line from Doppelmayr/Garavanta.
March 13, 2019
At London Luton Airport, Doppelmayr is building a cable car almost two kilometers long with a capacity of 2,720 passengers per hour and per route. This makes Luton Airport the second airport project in the UK after Birmingham for Doppelmayr. The Cable Liner is scheduled to go into operation in April 2021. Doppelmayr does not give details of the project turnover.
April 23, 2018
The world's longest three-rope cable car system was inaugurated in Vietnam's northern Lao Cai province. With the total length of 6,292.5 meters, the system was recognized by Guinness World Records as world's longest three-rope cable car route, and the world's biggest height gap between its departure and arrival stations of 1,410 meters.
February 4, 2016
The London Olympics were responsible for prestigious and lucrative orders running into double-digit millions in the run-up to the games.
August 14, 2012
This week, the official opening of the 'Emirates Air-Line' (London Cable Car) took place. The cable car was produced by the Austrian manufacturer Doppelmayr and the Swiss partner Garaventa.
June 29, 2012
The Austrian cable railway producer faces a small and stagnating market in the U.S. South America and China are seen as growth markets.
March 6, 2012
The Austrian ropeway manufacturer achieved a slight plus in turnover. The group result dropped by 11%.
December 2, 2011
As the Romanian economy performs well, Austrian enterprises see the tourism sector as chance for new orders.
November 22, 2011
Despite falling share prices, most Austrian companies with exposure to the USA remain confident.
August 9, 2011
Doppelmayr Italia GmbH was awarded the contract for the construction of the new ropeway on the Mont Blanc.
April 29, 2011
The Austrian Doppelmayr Group has been awarded the contract for a 3S installation (tri-cable ropeway) in the Russian Olympic location of Sochi.
January 20, 2011
Doppelmayr, The aerial and surface ropeway manufacturer from Vorarlberg underwent a slight drop in sales, but net income hasincrea sed significantly. Cautious optimism is being shown.
December 1, 2010
After major orders for its cable car system for Las Vegas and Venice, the cable car technology group from Vorarlberg now also got on track in the greater San Francisco area with the largest order in the company's history.
October 5, 2010