Didier Reynders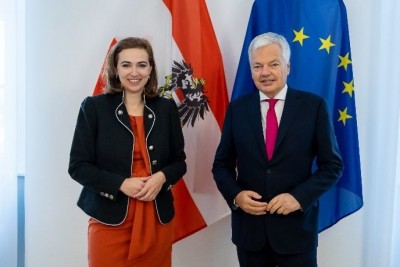 The EU Justice Commissioner, Didier Reynders, was hosted by Austrian Minister of Justice Alma Zadić for a working meeting in Vienna. The two discussed various issues, including their shared concern regarding the rule of law following the Polish Constitutional Court's ruling on the primacy of national law over EU law. Read about their meeting and the increased tensions surrounding the Polish court's decision.
October 12, 2021
The Belgian Foreign Ministry now warns of travel to all nine federal states of Austria. Carinthia and Styria complete the list of the federal states that are depicted in red, which is the highest Covid-19 warning level. Travellers from these areas need to self-quarantine for at least ten days.
October 29, 2020
The European Commission has published its first report on the rule of law among member countries. Although the European Union requires high standards, there are still some procedures that need revision in order to assure independency and proper democratic systems. Even Austria has some catching up to do.
October 1, 2020
At the heart of the new Commission's work is the need to address the changes in climate, technology and demography that are transforming European societies and way of life. Von der Leyen has structured and presented her team according to these requirements. Read below where the 27 commissioners come from and what they represent.
September 10, 2019