Alexis Traina
Following the election defeat and handover of office from Donald Trump to Joe Biden, and the directly related recall of U.S. Ambassador Traina from the U.S. Embassy in Vienna, the latter's Deputy Chief of Mission, Ms. Robin Lisa Dunnigan, has assumed interim leadership of the U.S. Embassy in Austria as "Chargé d'Affaires ad interim".
February 17, 2021
Aaron Wess Mitchell, Assistant Secretary of State for European and Eurasian Affairs, who is only in office for a few more days, met the Austrian Foreign Minister for a working breakfast in Vienna. Afterwards they visited Clemens Metternich's former office together with US Ambassador Trevor Traina and his wife.
February 11, 2019
The new US Ambassador to Austria Trevor Traina presented President Alexander Van der Bellen with his letter of accreditation at the Vienna Hofburg.
May 25, 2018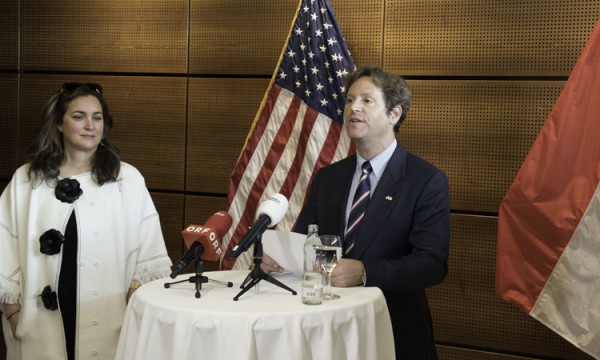 The new US Ambassador to Austria, Trevor Traina, grandson of Wiley T. Buchanan, the former US Ambassador to Vienna (1975 - 1977), has arrived in Vienna with his wife Alexis. In his first statement, he underlined the close bilateral relations between the two countries: "Austria was one of America's first friends and we are here to remind everyone how important that relationship still is today - over 180 years later."
May 19, 2018