Ukrainian Ambassador Khymynets Thanks Austrian Communities for Hosting Refugees
Ukrainian Ambassador Khymynets thanked Austrian communities for hosting refugees from Ukraine. Close cooperation between Austrian and Ukrainian communities is planned.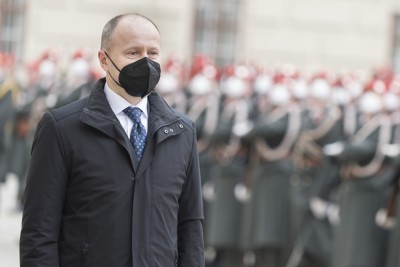 Ukrainian Ambassador Khymynets thanked Austrian communities for hosting refugees from Ukraine. / Picture: © www.bundespraesident.at / HBF
Due to the Russian invasion of Ukraine, many Ukrainian citizens had to flee from their homeland. Austria has taken in many refugees from Ukraine and is committed to peace in Ukraine. More than 57,000 refugees from Ukraine have already been registered in Austria.
The Ukrainian Ambassador Vasyl Khymynets invited President of the Association of Municipalities Alfred Riedl to exchange information on the current developments surrounding the war in Ukraine.
The Ambassador took the opportunity to thank the Association of Municipalities for the commitment of so many municipalities and mayors to accommodating and helping displaced persons from Ukraine. Ambassador Khymynets said, "I thank all communities and cities for the enormous willingness to help and solidarity with the Ukrainian people who have to experience the suffering of the Russian war."
Ambassador Khymynets and President of the Association of Municipalities Riedl also agreed on close cooperation between the Austrian and Ukrainian municipalities.
The plan is to prepare for the time after the war. In the course of these community partnerships between Ukrainian and Austrian municipalities, European exchange is to be promoted and support to be provided for the reconstruction of the destroyed regions.
The ambassador of Ukraine underlined its support for the partnership and attached an important significance to the deepening of Ukrainian-Austrian partnership relations between municipalities and cities. This cooperation will undoubtedly strengthen the foundation of the Ukrainian-Austrian partnership, enrich cooperation with the living content, promote understanding between the Ukraine and Austria, as well as help shape the content of Ukraine's path to EU membership.