International Elementary School in Vienna-Grinzing Has Opened Its Gates
The new private international elementary school "Meridian International School" in Vienna's noble 19th district, with a special focus on languages, promises to give students a head start in life and prepare them for the multilingual environment of the future.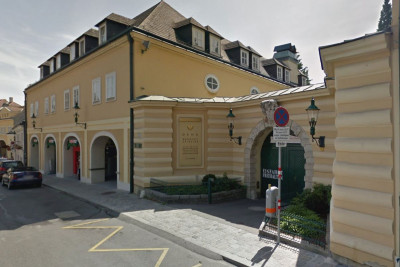 International Elementary School in Vienna - Grinzing Has Opened Its Gates. / Picture: © Meridian International School / Konstantin Dshajani
At the beginning of September, Meridian International School Grinzing opened in Himmelstraße 11 in Vienna's 19th district, the first non-confessional international private elementary school of its kind in Vienna.
The concept is completely designed for multilingualism: Lessons are held in German and English. 
There is always one German-speaking class teacher and one English-speaking pedagogue per class with a maximum of 20 students.
The teaching content is based on the Austrian curriculum for elementary schools, which is extended by international perspectives.
All-day school with language focus
The Meridian International School Grinzing is designed as an all-day school.
Lunch together, a daily garden hour for playing and opportunities for artistic development characterize the children's everyday school life.
For the largest language groups, mother-tongue lessons are also offered, e.g. in Chinese, Bulgarian, Russian and other languages.
The intensive study of the language of origin is very important because it is particularly beneficial to the children in their further development.
Classical values, a healthy performance orientation, an international environment and linguistic diversity should enable the pupils to achieve a high level of learning performance that they enjoy.
Prerequisites and school leaving certificate
Prerequisite for school attendance is a basic knowledge of German and English. For children who do not yet speak German well enough, a special preparation course is offered during the last year of kindergarten so that they can start school with better language skills.
"After graduation, the children are prepared for multilingualism and can attend an Austrian secondary school with German as the language of instruction as well as an international English-speaking school," says MIS - Meridian International School Grinzing in a press release.
Funding
The Meridian International School is a private institution which funds itself with the school fees and receives no additional subsidies from the federal government or the city of Vienna.
School fees 2020/2021 Primary School Fee monthly basis: EUR 792 / month (12x per year)
Primary School Fee two instalments: EUR 4 692,- / semester (2x per year)
Primary School Fee full school year advance payment: EUR 9 182,-
Lunch: EUR 167,- / month (10x per year)
Application Fee: EUR 250
Investment Fee: EUR 1500
Security Deposit: EUR 500