Austrian Raiffeisen Bank International Gets Under Pressure Due to Russo-Ukrainian War
Its involvement in Russia keeps Raiffeisen Bank International (RBI) and its managers, led by Johann Strobl, very busy. The subsidiary institution in Moscow is RBI's biggest profit earner and almost the entire RBI board is on the Ukrainians' "awaiting sanctions" list. Whether RBI will stay in Russia and how to proceed is still unclear, as the banking group is in a tricky situation.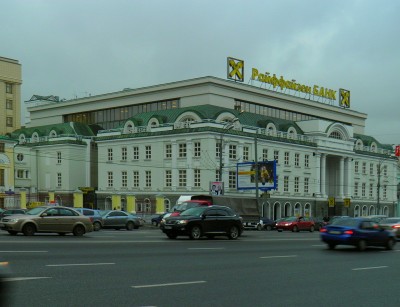 Despite being accused of supporting the Russian war machine, Raiffeisen Bank remains in a tricky situation in Russia. / Picture: © Wikimedia Commons; salech hcelas, CC BY 3.0 (https://creativecommons.org/licenses/by/3.0/deed.en)
Since the beginning of the Russian-led war against Ukraine in February 2022, it has brought a lot of adversity to the Austrian parent of RBI's Russian subsidiary, Raiffeisen Bank International. The Russian subsidiary is one of the ten largest credit institutions in Russia. However, RBI is also active in Ukraine as one of the few European institutions and has around three million customers in the war-torn country.
For years, the Russian RBI subsidiary was the cash cow of the Vienna-based banking group and contributed a large share of its profits. As Vindobona.org reports, CEO Johann Strobl and another board member of the bank, Andreas Gschwenter, have therefore been placed on a list of persons for whom sanctions are recommended in Kyiv.
The Russian RBI subsidiary supervisory board includes Strobl and Gschwenter, with Strobl serving as chair. Aside from them, the Ukrainians have also listed other members of the Moscow bank's Supervisory Board as Peter Lennkh, Lukasz Januszewski, and Hannes Mösenbacher on their sanctions list. All are also members of the RBI Management Board - only Andrii Stepanenko, a native Ukrainian, is not on the sanctions list
The sanctions list and the individuals and companies listed on it are intended to build international pressure. The Ukrainian Foreign Ministry and the Ukrainian anti-corruption agency Nazk support the project.
RBI commented on the matter on, as DerStandard reports, "For several months, there has been a Ukrainian list calling, among other things, for sanctions against members of the Supervisory Board of Raiffeisenbank Russia."
According to DerStandard, it is emphasized that "no Ukrainian sanctions have been imposed on members of the Supervisory Board of Raiffeisenbank Russia." RBI is also active in Ukraine, here under the name Raiffeisen Bank Joint Stock Company.
Among other things, Ukraine is also conducting Internet campaigns against Raiffeisen Bank International. Thus, there are already official pages of Raiffeisen Bank seemingly ironic pages such as Russiazen Bank International in which it is said that the Raiffeisen Group is an official part of the Russian war machine. Also open letters on the part of official places and many more NGO's were written to the company.
Many Western companies have meanwhile withdrawn from Russia, among the banks, for example, the French Paribas. RBI is also examining "all strategic options for the future of Raiffeisenbank Russia, up to and including a carefully managed exit" from the Moscow bank due to the unprecedented situation, as the company has been saying since last March, according to DerStandard "Due to the complex situation," however, no date could be given for the review to be completed, a spokesman told Der Standard newspaper.
The CEO of Raiffeisen Bank International, Johann Strobl, presented the institution's half-year results in the summer of last year. When asked what would happen to the Russian subsidiary, Strobl was cagey and said that all options were being examined. However, he would not disclose any details or a timeline, Strobl said.
RBI also remained vague about how many accounts it had frozen in connection with the EU sanctions and explained 70 to 80 account relationships with correspondent banks had been terminated. In the current year, the "stable" development is to continue, one or the other acquisition does not seem to be ruled out, there is "potential for consideration" according to Strobl.
Currently, RBI is being criticized on Twitter for offering a credit moratorium in Russia to certain groups of people, including Russian soldiers and their dependents, as well as people recruited from Russian-occupied territories in Ukraine.
#Austria's Raiffeisen bank recognizes so-called Donetsk and Luhansk "Peoples Republics" and provides favorable loan terms to Russian invaders in Ukraine.#boycottaustria pic.twitter.com/u6VSA7RdCj

— nymbase (@atharavesta) January 2, 2023
According to "DerStandard", RBI commented that the screenshot was taken from the bank's homepage in Russia. According to RBI, all Russian banks are legally obliged to grant a credit moratorium to conscripted soldiers. This means that the bank is complying with the legal requirements.
The Ukrainian ambassador to Austria, Vasyl Khymynets, stressed in an APA interview, according to ORF, that sanctions would be examined very thoroughly. If it turns out that the Austrian bank "provides financial benefits to Russian recruits" and indirectly recognized the "fake republics", the separatist regions in the east of Ukraine, then this would also be a "moral problem".
According to ORF, the ambassador pointed out that recruits in Ukraine "kill and rape" and that Russian money is "tainted with a lot of blood." Chymynez appealed to Austrian companies to reconsider doing business with Russia. "It is not too late to make the decision and leave the Russian market."