Austrian President Van der Bellen Admits Mistakes Regarding Putin
In a recent interview, Austrian President Alexander Van der Bellen explained how he feels about obvious mistakes made during his first term in office. In his opinion, this also includes his words of praise for Austrian-Russian relations and Russian President Vladimir Putin.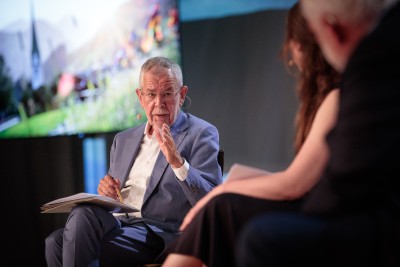 In an interview, Austrian President Alexander Van der Bellen admitted mistakes in his view of Russia and Vladimir Putin. / Picture: © Österreichische Präsidentschaftskanzlei / Peter Lechner/HBF
In recent months, the Austrian President's assessment of Russia and Vladimir Putin has changed significantly. Following Russia's annexation of Crimea, he demonstrated understanding for Moscow, but after the Ukrainian attack on February 24, he unambiguously condemned Russia and called Putin a dictator. Russia, of course, remains the home of his parents, who fled to the West to escape the Bolsheviks at the time.
Van der Bellen and Russia
Van der Bellen had at least two opportunities to publicly criticize Putin's authoritarian course in his presence, but he did not take them.
Already in 2015, the then Green politician had shown understanding for Russia, Vienna.at reports. In the book "The Art of Freedom," he criticized "irresponsible talk of Ukraine joining NATO," which would have "practically cut off" Russia from the Black Sea. "Did anyone really believe that Vladimir Putin would stand idly by?" the future head of state Van der Bellen had written.
"It was a particular pleasure for me that President Putin undertook one of his first foreign trips after his re-election or inauguration to Vienna," Van der Bellen had said at the start of a joint press conference with Putin in June 2018, as Vienna.at reported.
A Soviet-Austrian gas supply agreement was signed 50 years ago, and the Russian head of state visited Austria to mark the occasion. It was also at that time that negotiations were underway regarding an early extension of an OMV-Gazprom contract that was now highly controversial until 2040, which would be signed in St. Petersburg a few months later in the presence of former Federal Chancellor Sebastian Kurz.
The fact that the Federal President denied seeing a crisis of confidence between Russia and the EU during his first appearance with Putin subsequently earned him international scolding.
Van der Bellen also remained extremely cautious at his second press conference with Putin in May 2019 in Sochi. He presented what was happening in Ukraine at the time primarily as a problem between Russia and the European Union; Russia's annexation of Crimea in violation of international law and the war in eastern Ukraine that was unleashed by Russian guerrillas were not given any greater attention.
During the visit to Sochi in 2019, Van der Bellen's family history also played a role on the sidelines. The Russian history of the Van der Bellens, who were influential at a regional level in Russia, had ended in 1919 with their getaway from the Bolsheviks to Estonia and ultimately to Austria. Putin presented the Federal President with a magnificent edition of the Van Bellens' family history, produced on behalf of the Kremlin, which traces in detail an approximately 200-year history of the Dutch-born family in western Russia.
Van der Bellen explaining his mistakes regarding Putin
In an interview with PULS 24 Infochefin Corinna Milborn, Alexander Van der Bellen describes as a "mistake" today the fact that in 2018 he was still praising the "best experiences" with gas from Russia and the "good common basis for talks" with Vladimir Putin. "I let myself be hoodwinked," he says and emphasizes, "Putin, however, deceived the whole world."
Van der Bellen admitted that he had been misled concerning Russia under Putin. It had been forgotten that there were leaders who would also accept heavy economic losses for their country "to wage an ideologically motivated war," he analyzed in an APA interview in September last year, reported by Vienna.at.
However, according to the PULS 24 interview the trained economist understands "to a certain extent" that OMV was dependent on business with Russia, and he understands it "even today." There had been "over 50 years of good business relations," good and cheap gas. "It was a typical mistake for an economist," Van der Bellen says today. In the meantime, he sees things differently: "Now is really not the right time to think about ending the sanctions."
In recent years, Austria's sympathy to Russia has cost it much of the neutral standing and diplomatic trust that it had built up so preciously. Little by little, Austria is now admitting this to itself.