Austrian Companies Remain Strong in Russia
Many Austrian companies are active in Eastern Europe, especially in the Balkans, Ukraine and Russia. Especially in Russia, the activity of Austrian companies has been very successful but is controversial due to the Russian attack on Ukraine. According to research by the Kyiv School of Economics (KSE), almost a year after the start of the Russian invasion of Ukraine, two-thirds of the previously present companies from Austria are still active in Russia.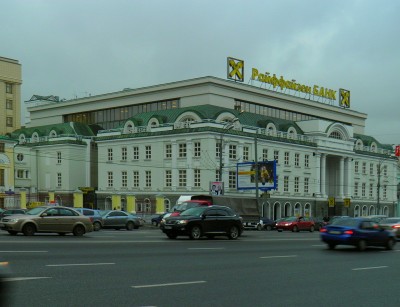 Raiffeisen Bank is one of the largest Austrian companies that continues to operate in Russia. / Picture: © Wikimedia Commons; salech hcelas, CC BY 3.0 (https://creativecommons.org/licenses/by/3.0/deed.en)
Austrian companies are still very active in Russia even after a year of war in Ukraine and serious sanctions against Putin, the Russian economy and the country. This is again and again controversially discussed and strongly criticized in the part of Ukraine, for example in the case of Raiffeisen Bank International, as Vindobona.org reported.
Now, the Kyiv School of Economics (KSE) also investigated how many Austrian companies have remained in Russia despite Russia's war against Ukraine.Ukrainian researchers conducted a study on voluntary "self-sanctions" of Western companies, which are viewed by experts as relevant for Russia's economic future.
A university database based on open sources in Kyiv recorded 3,078 international companies with Russian operations, five percent of which have left Russia in recent months and 38 percent of which intend to do so. According to Ukrainian experts, 39 percent of all international companies surveyed currently want to remain in the warring state. Among companies from Austria, this applies to 65.6 percent.
Out of 64 companies mentioned, only three have left the Russian market since February 24, nine had announced an exit, 42 wanted to stay. As a result, Austrian companies exhibit a significantly "greater loyalty" to Russia than firms from other countries, according to KSE.
An event originally planned in Russia will now take place in a less spectacular setting following public criticism, illustrating Austria's continued presence in Russia. As part of a cross-country event in the Moscow region on January 27, the Foreign Trade Center of the Austrian Federal Economic Chamber (WKO), located at the Austrian Embassy, invited "Austrian companies with their presence or business interest as well as their local partner companies".
Im Fall der aktuellen Veranstaltung entschuldigen wir uns für das unglücklich gewählte Setting, das nicht angebracht ist. Eine Informationsveranstaltung hätte nicht mit einem Sport-Event verknüpft werden dürfen. Daher wird diese Veranstaltung in dieser Form nicht stattfinden.

— Wirtschaftskammer Österreich (@WKOe) January 18, 2023
Indeed, an additional sporting event was also planned, with the WKO disagreeing on Twitter.