Austrian Foreign Minister Schallenberg Attends Gymnich Meeting
At the Gymnich meeting in Stockholm in May 2023, Austrian Foreign Minister Alexander Schallenberg focused on the discussion of Russia's war of aggression against Ukraine and the EU's relations with China.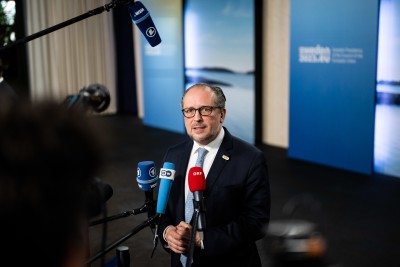 Austrian Foreign Minister Alexander Schallenberg Attended the Gymnich Meeting in Stockholm. / Picture: © BMEIA Bundesministerium für Europa, Integration und Äußeres / Gruber / Flickr Attribution 2.0 Generic (CC BY 2.0)
Foreign Minister Alexander Schallenberg attended the Gymnich meeting of EU foreign ministers and the EU Indo-Pacific Ministerial Forum in Stockholm. The informal consultations focused on Russia's war of aggression against Ukraine and the European Union's (EU) relations with China.
At the beginning of the Gymnich meeting, Foreign Minister Schallenberg and his EU counterparts discussed Russia's continued serious violations of international law. A particular focus was on security cooperation with Ukraine and EU diplomatic relations with third countries in light of Russia's campaign of disinformation related to Russia's aggression.
"We are losing ground in much of Africa and in some parts of Asia. In the face of Russia's well-oiled propaganda machine, we need to be more engaged in conversation with the global South. Because we see that Russia, with its disinformation, is trying to portray the EU - the world's largest donor of development aid - as imperialist and colonialist in the global South," Foreign Minister Schallenberg stressed.
In the second part of the Gymnich meeting, EU foreign ministers held a strategic discussion on EU-China relations. In light of the high-level EU-China talks and geopolitical changes, they exchanged views on how to deal with China in the future. Foreign Minister Schallenberg, who recently visited Vietnam, stressed the need to reduce risk and diversify in EU-China relations.
"Unity remains the EU's greatest asset, including vis-à-vis China - which is on the rise as a systemic rival. But as the EU, we must not paint the world in black and white, because we need cooperation with China to jointly face the challenges of our time, such as climate change. That is why I also particularly welcome the important talks between the representatives of the United States and China in Vienna over the past few days," said Foreign Minister Schallenberg.
Gymnich Meeting and Austria
The Gymnich meeting is an informal gathering of EU foreign ministers that takes place twice a year. The name "Gymnich" comes from Gymnich Castle in Germany, where the first meeting of this kind was held in 1974. The meeting serves as a platform for open discussions on current foreign policy issues and offers foreign ministers the opportunity to discuss strategic issues and coordinate political positions. Participants exchange views on international crises, conflicts, and challenges and discuss EU foreign policy in different regions and thematic areas. The Gymnich meeting provides an informal atmosphere in which foreign ministers can exchange ideas and develop common positions that can later be incorporated into formal EU decisions.
Austria also uses the Gymnich meeting as an opportunity to hold bilateral talks with other EU member states and representatives of regional organizations. Common interests and concerns are discussed and opportunities for cooperation are explored. The Gymnich Meeting thus provides Austria with a platform to present its positions in European foreign policy and to contribute to the development of common strategies.