Austria Extends Lockdown Until February 7
The Austrian government has announced an extension of the current lockdown until at least February 7, 2021. Due to only a very slow decline in Covid-19 cases and the virus mutations from Great Britain and South Africa, which are more contagious and spread actively through the EU, the lockdown was extended and wearing a FFP2 mask in public transport and stores will be mandatory.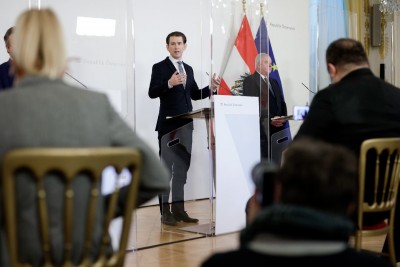 Austria's Chancellor Kurz announces the lockdown extension until February 7, 2021. / Picture: © Bundeskanzleramt (BKA) / Andy Wenzel
Austria extends its current lockdown until at least February 7, 2021.
The decision was made after the government had consulted many Austrian and international experts about the current Covid-19 situation and also having in mind the virus mutations from Great Britain and South Africa, which are more contagious and have spread throughout the European Union.
According to Chancellor Sebastian Kurz, "the mutations have also arrived in Austria and are clearly exacerbating the situation."
He added:
"The next few months will be tough and a race against the virus. There is a need to prevent an explosion of infections due to the mutations and an overload of intensive care capacity in hospitals."
This race goes on until the number of vaccinations among the population rises and most of the high-risk patients are immunized, he said.
"Therefore, we have collectively decided that we need to do some follow-up tightening because of the higher risk of infection from the mutations," Kurz added.
The distance rules will also be tightened, from one to 2 meters.
"In addition, we strongly recommend wearing an FFP2 mask instead of the mouth-nose protection. As of January 25, the FFP2 mask will be mandatory in certain areas, such as public transportation and retail. We also ask all companies to use home offices wherever possible. In addition, it is necessary to extend the lockdown, including the exit restrictions," informed the Chancellor.
The goal, he said, is to get as close as possible to a 7-day incidence of about 50. The numbers will be evaluated on a weekly basis, he said.
"The goal is to get close to that by February 8, and then the first opening steps will be possible in retail, body-related services and museums," Chancellor Kurz continued.
"For the schools, this therefore means: Distance Learning until the semester break. The start in shift operation is to take place with February 8 in Vienna and Lower Austria. In the other provinces, the semester break will take place a week later and thus the schools there are to open on February 15."
The following information summarizes the new measures:
Lockdown extension until February 7, 2021;
As of January 25, 2021, obligation of FFP2 masks as well as a minimum distance of two meters applies in stores and public traffic;
For February 8, 2021, first opening steps for businesses, body-close service providers and museums were promised;
Schools reopen for normal operations in Vienna and Lower Austria on February 8, 2021, in all other provinces on February 15, 2021.
Whether an opening of gastronomy and hotel industry in March is possible, is to be evaluated and decided in mid-February.