Spanish Riding School - Spanische Hofreitschule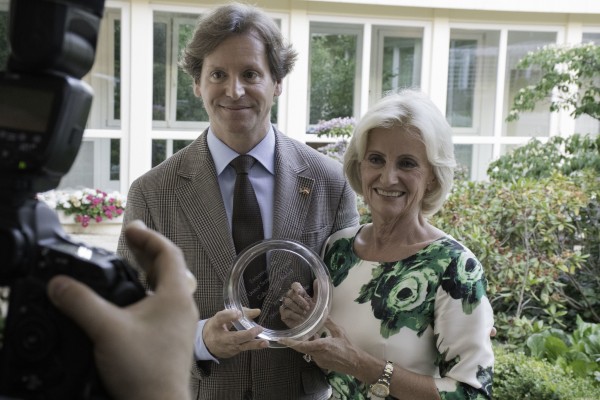 Austrian entrepreneur Elisabeth Gürtler-Mauthner (69) received the Cultural Icon Award in acknowledgement of her achievements and long friendship with the United States of America from US Ambassador Trevor Traina.
June 20, 2019
The Lipizzan horses are to become cultural heritage. After decades of dispute, Slovenia and Austria submit the Lipizzaner breed to UNESCO as an intangible cultural heritage. This was declared by Austrian Foreign Minister Karin Kneissl and her Slovenian colleague Miro Cerar after signing a joint declaration in Going in Tyrol. The application should be submitted by March 2020 with the aim of enrolment by 2021.
May 7, 2019
Chancellor Kurz visited the UAE United Arab Emirates and the State of Kuwait with an extensive business delegation. Main purpose were deals in in the fields of energy, sustainability, infrastructure, transport and health. Also on the trip were 25 Lipizzan stallions of the Spanish Riding School including riders, which were on a tour in the Emirates. Kurz presented the Crown Prince of the UAE, Mohammed bin Zayed Al Nahyan, with a Lipizzan stallion as a gift from the Republic of Austria.
March 25, 2019
The Spanish Riding School of Vienna, Austria, is a traditional riding school for Lipizzan horses, which perform in the Winter Riding School in the Hofburg. This year the school is celebrating the 450th anniversary of its first written mention with gala performances on Heldenplatz.
June 2, 2015
Two glittering summer balls will be celebrated in Vienna: The Concordia Ball (19.6.) in Vienna City Hall and the Fête Impériale (26.6.) in the Spanish Imperial Riding School. The Concordia Ball has been one of Vienna's most sparkling and exclusive events for over 150 years. The Fête Impériale is famous for its opulent and imaginative decorations, and is held once again this year under the motto "Red-White-Red".
May 28, 2015