Sabine Herlitschka
After three years of planning and construction and a € 1.6 billion price tag, Infineon Technologies AG finally opened its new high-tech chip factory in Villach, Austria. Read more about the new factory, the chips produced there, and what Infineon does.
October 20, 2021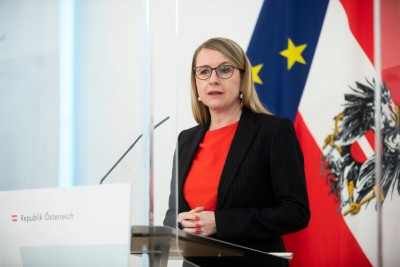 At the research conference hosted by the Research Center International Economics (FIW), Austria's Economics Minister Margarete Schramböck had the opportunity to take part in discussions with the star economist Richard Baldwin and a number of other important representatives of international economics research.
March 1, 2021
The Federation of Austrian Industry, the lobby of 4,200 voluntary members and owners of Austrian industrial and industry-related companies, has elected a new president in Georg Knill.
June 19, 2020
German semiconductor manufacturer Infineon is investing in Carinthia in the largest chip factory in Europe. 1.6 billion euros will be invested in the construction of a new semiconductor factory at the Villach site.
May 30, 2018