Nikol Pashinyan
The Russian-led Collective Security Treaty Organization (CSTO) held a meeting in Moscow to strengthen Russia's alliance with military partners like Belarus, Kazahkstan, Armenia, the Kyrgyz Republic and Tajikistan and to condemn the West. The CSTO and its Collective Security Council meeting were held in honor of the 30th anniversary of the treaty and the 20th anniversary of the organization.
May 17, 2022
Foreign Minister Schallenberg is visiting Armenia in an attempt to strengthen bilateral ties. Read about Austrian-Armenian relations and Schallenberg's trip, which includes meetings with Armenian Prime Minister Nikol Pashinyan and Foreign Minister Ararat Mirzoyan.
February 2, 2022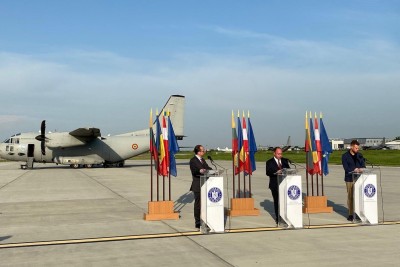 The Foreign Ministers from Lithuania, Romania and Austria have visited the South Caucasus countries Azerbaija, Armenia and Georgia on behalf of EU External Relations Commissioner Josep Borrell. Read everything about the details of the trip below.
June 28, 2021
The President of the Republic of Azerbaijan Ilham Aliyev and the Prime Minister of the Republic of Armenia Nikol Pashinyan met in Vienna for the first time under the auspices of the Co-Chairs of the OSCE Minsk Group to discuss the settlement of the Nagorno-Karabakh conflict. The two heads of state also met with Austrian President Van der Bellen and Austrian Federal Chancellor Sebastian Kurz.
April 5, 2019