Martin Nesirky
UNIS United Nations Information Service and the Vienna-based UN organizations and agencies showed up with their teams at the Annual Presentation of the UN Priorities and Key Events at the premises of its partner organisation, UNA-Austria. Among the speakers were Kai Bethke (UNIDO), Fredrik Dahl (IAEA), Brian Hansford (UNODC) and Gill Tudor (CTBTO).
January 15, 2020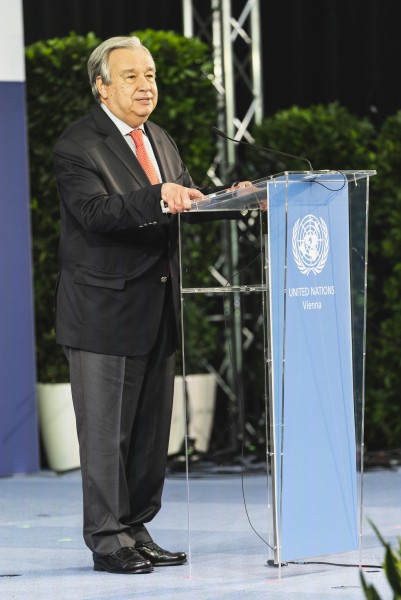 UN Secretary General António Guterres completed a busy programme when he came to Vienna for the 40th anniversary celebrations and the R20 Austria World Summit. The VIC Vienna International Centre is the place where, with the help of the Sustainable Development Goals (SDG), the 193 member states, 15 Vienna-based UN organisations and more than 5000 people from 125 countries from around the world are bound together.
May 31, 2019
On the occasion of the 40th anniversary of the VIC Vienna International Centre (UNO-City), UN Secretary General António Guterres, former Foreign Minister Karin Kneissl and Vienna Mayor Michael Ludwig attended a ceremony at the Vienna headquarters of the United Nations.
May 30, 2019
Every year the Viennese city administration provides the VIC - Vienna International Centre (UNO-City) with a Christmas tree, punch, zither music and a gingerbread craft station to create a pre-Christmas atmosphere.
December 20, 2018