Ilham Aliyev
The situation in Nagorno-Karabakh, the contested territory between Armenia and Azerbaijan, is once again on a knife's edge. Recent developments have escalated tensions, threatening regional stability and raising urgent humanitarian concerns. International organizations like the OSCE and UN are deeply concerned and have convened special meetings to address the issue.
September 21, 2023
In recent days, former Austrian Chancellor Sebastian Kurz's visit to Budapest caused a stir and drew criticism. Kurz, who officially works as an entrepreneur, was photographed in front of Austrian and Hungarian national flags during his meeting with Hungary's Prime Minister Viktor Orbán.
August 27, 2023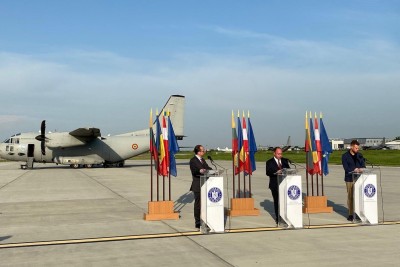 The Foreign Ministers from Lithuania, Romania and Austria have visited the South Caucasus countries Azerbaija, Armenia and Georgia on behalf of EU External Relations Commissioner Josep Borrell. Read everything about the details of the trip below.
June 28, 2021
The President of the Republic of Azerbaijan Ilham Aliyev and the Prime Minister of the Republic of Armenia Nikol Pashinyan met in Vienna for the first time under the auspices of the Co-Chairs of the OSCE Minsk Group to discuss the settlement of the Nagorno-Karabakh conflict. The two heads of state also met with Austrian President Van der Bellen and Austrian Federal Chancellor Sebastian Kurz.
April 5, 2019