Guyana
The Vindobona table below is an updated list of National Days of all nations, which belong to at least one of following categories: Foreign Missions and Delegations in Vienna, Austria; Diplomatic Corps and other representations in Austria; International Organizations in Vienna and Permanent Missions; Missions and Delegations to the OSCE.
February 11, 2015 · Updated: December 11, 2021; 08:12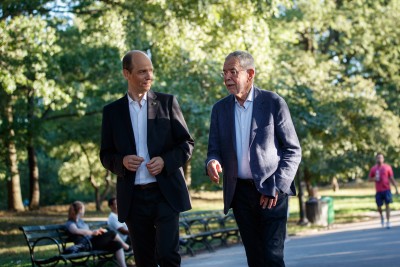 Austrian President Alexander Van der Bellen is in New York attending the 76th UN General Assembly along with Chancellor Kurz and Foreign Minister Schallenberg. On Tuesday, President Van der Bellen attended the "Welcome Reception" with UN-Secretary General António Guterres and the opening of the General Assembly. The President also held talks with the presidents of Costa Rica, Ghana, Guyana, Senegal, and Zambia. Van der Bellen is still scheduled to meet with Secretary-General Guterres, various world leaders, and scientists to discuss the COVID-19 pandemic, climate change, and more. Read about the President's trip so far and what is next on his agenda.
September 21, 2021
The new Ambassador of the Co-operative Republic of Guyana to Austria, H.E. Mr. David Hales presented President Alexander Van der Bellen with his letter of accreditation at the Vienna Hofburg.
September 5, 2018