Costa Rica
The Minister of Foreign Affairs of Costa Rica, Dr. Arnoldo André, met with his Austrian counterpart, Alexander Schallenberg, to discuss a broad agenda of bilateral and multilateral issues in the context of the celebration of 150 years of diplomatic relations between both countries.
May 9, 2023
The Vindobona table below is an updated list of National Days of all nations, which belong to at least one of following categories: Foreign Missions and Delegations in Vienna, Austria; Diplomatic Corps and other representations in Austria; International Organizations in Vienna and Permanent Missions; Missions and Delegations to the OSCE.
February 11, 2015 · Updated: December 14, 2022; 08:12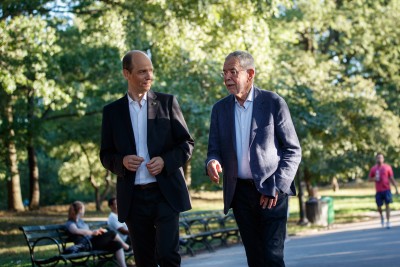 Austrian President Alexander Van der Bellen is in New York attending the 76th UN General Assembly along with Chancellor Kurz and Foreign Minister Schallenberg. On Tuesday, President Van der Bellen attended the "Welcome Reception" with UN-Secretary General António Guterres and the opening of the General Assembly. The President also held talks with the presidents of Costa Rica, Ghana, Guyana, Senegal, and Zambia. Van der Bellen is still scheduled to meet with Secretary-General Guterres, various world leaders, and scientists to discuss the COVID-19 pandemic, climate change, and more. Read about the President's trip so far and what is next on his agenda.
September 21, 2021
The new Ambassador of the Republic of Peru to Austria, H.E. Mr. Alejandro Solano Ortiz presented Austrian Federal President Alexander Van der Bellen with his letter of accreditation at the Vienna Hofburg. In September 2021 he was named the Chairperson of the Group of 77 (G-77) Vienna Chapter.
November 7, 2018 · Updated: September 13, 2021; 11:00
More and more embassies, delegations and permanent representations to international organisations supported this day (IDAHOBIT), that raises awareness of LGBT rights violations and stimulate interest in LGBT rights work worldwide, as well as EuroPride 2019 in Vienna.
May 29, 2019
The Mercer's 2014 Cost of Living Rankings have been published and cover 211 cities across five continents. While Western European cities have all risen in the rankings mainly due to the strengthening of the Euro against the US dollar, most cities in Central and Eastern Europe (CEE), however have fallen in the ranking as a result of local currencies depreciating against the US dollar. Bratislava (#84), Prague (#92), Kiev (#98), Ljubljana (#116), Zagreb (#120), Budapest (#135), Warsaw (#142), Belgrade (#184).
July 25, 2014
The Austrian technology group Andritz was awarded a contract by the Institute of Electricity of Costa Rica.
February 1, 2012
The Upper Austrian timber company signed a € 50m contract for external forest management activities in Costa Rica.
October 6, 2011
The Upper Austrian timber company's revenue more than doubled in the first nine months of the financial year. The value of plantations increased by € 8.7m.
August 4, 2011
The Upper Austrian timber company announced a capital increase by € 15.6m. The funds will be used to boost growth.
June 28, 2011
The Austrian Andritz Hydro receives international orders to equip four hydropower plants. The contract value is € 80m.
February 4, 2011
The bond matures in five years and bears a coupon of 5 percent.
September 1, 2010