Skopje Hosts OSCE Youth Forum: A Convergence of Young Innovators and Parliamentarians
The OSCE 2023 Chairpersonship, led by North Macedonia, hosted a pivotal Youth Forum in Skopje, focusing on integrating youth perspectives into security, with an emphasis on entrepreneurial and innovative solutions for fostering peace, dialogue, justice, trust, and reconciliation.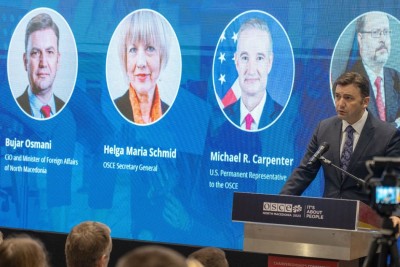 OSCE Chairman-in-Office, Minister of Foreign Affairs of North Macedonia Bujar Osmani at the Youth Forum, Skopje. / Picture: © OSCE Chairmanship/ ID 557955, (CC BY-ND 4.0)
Bujar Osmani, the OSCE Chairman-in-Office and Minister of Foreign Affairs of North Macedonia highlighted the importance of youth as not just beneficiaries but active partners in the OSCE's mission. He stressed the need for youth voices to be heard and integrated across various OSCE dimensions, emphasizing the role of active dialogue in achieving this goal.
The forum showcased young entrepreneurs from diverse backgrounds, all working towards transformative solutions for their communities while addressing global challenges. A key focus was on promoting innovation and entrepreneurship, particularly in social and green sectors, to tackle economic, social, and environmental challenges.
Parallel to the Youth Forum, the OSCE Parliamentary Assembly's (PA) Network of Young Parliamentarians, represented by David Stögmüller (Austria), Aleksander Stokkebø (Norway), and Iskren Mitev (Bulgaria), conducted a side event. This event aimed to foster collaboration between young innovators and parliamentarians, discussing how young individuals can engage in policy development and stimulate synergy between entrepreneurs, innovators, and lawmakers.
Aleksander Stokkebø, Vice-Chair of the Network, noted that the discussions generated innovative ideas for policy advocacy and empowering young entrepreneurs to influence decisions by building strong relationships with legislators.
David Stögmüller, Chair of the OSCE PA Network of Young Parliamentarians, emphasized the commitment to amplify the voices of young people. The recommendations from this forum will be presented to the OSCE PA and incorporated into their policy framework.
This forum in Skopje marks a significant step in acknowledging and harnessing the potential of young people in shaping a sustainable future for the OSCE region. It represents a growing recognition of the crucial role youth play in addressing contemporary social and environmental challenges, and their capacity to drive innovation and change at both the community and international levels.