Outdoor FFP2 Mask Obligation Possible
In a recent adaptation of the appropriate decree, Austria's Health Minister Rudolf Anschober implemented a possible FFP2 mask obligation order by local authorities for certain outdoor areas. According to the Health Minister, the face mask is an important factor in decreasing the spreading of the Covid-19 mutations - even in crowded outdoor areas.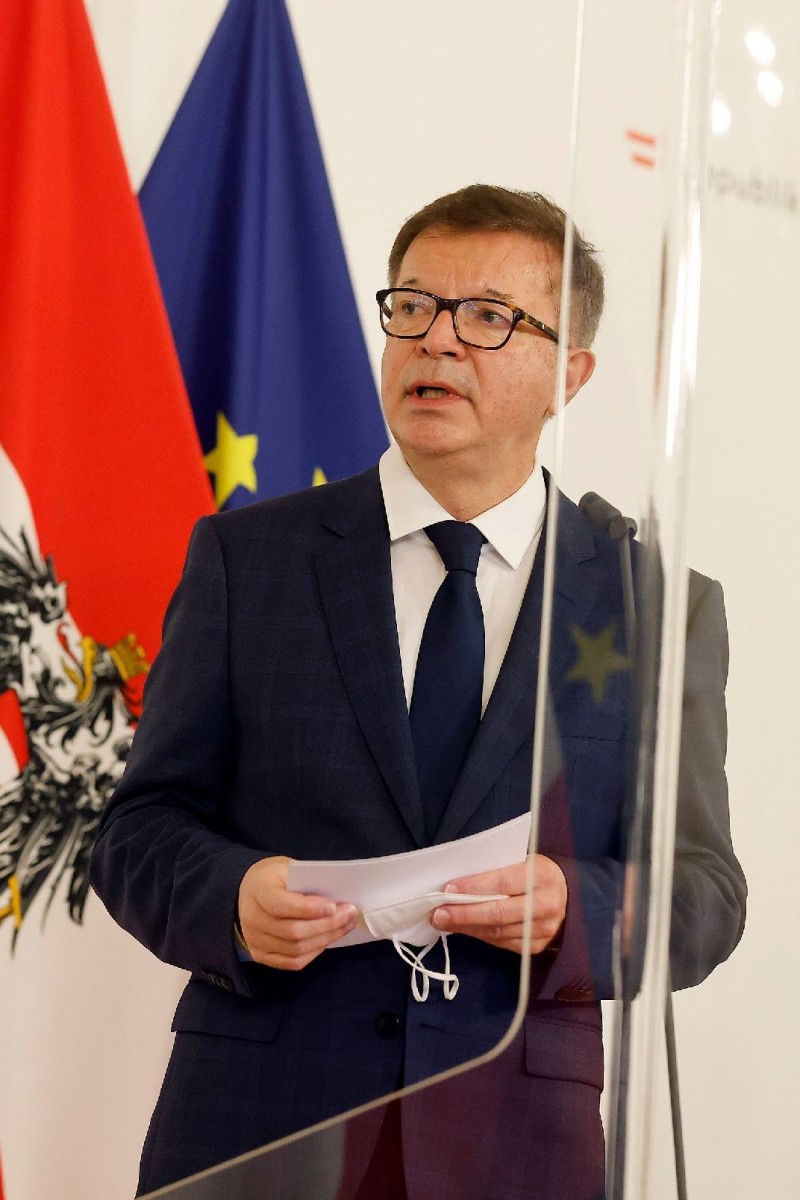 Austria's Health Minister Rudolf Anschober announces the possibility of FFP2 mask obligations for outdoor areas. / Picture: © Bundeskanzleramt (BKA) / Dragan Tatic
The FFP2 mask requirement can now be ordered by local authorities for certain outdoor areas.
A general obligation to wear a FFP2 mask outdoors already exists at outdoor markets, for example, Anschober reminded on the sidelines of a press conference.
With the adaptation of the decree, such a duty can now be ordered by the local authorities for other heavily frequented outdoor places - for example, in queues in front of shopping centers - if necessary.
Anschober stated that the introduction of FPP2 masks with their improved protection against infection is one of the most important protection tools against the increased risk of infection due to mutations.
He explains:
"The steps taken so far in the introduction of the FFP2 protective masks have worked very well and have been excellently implemented by the population. In some areas, we will extend this use further. For example, through a current decree calling on the provincial governors to define places where it is difficult to avoid a particular crowd in the open air and to anchor FPP2 compulsory at these. Who is not familiar, for example, with the images of relatively densely packed crowds in front of shopping malls or the like?"
The second instrument in Austria's strategy against a renewed sharp increase in new infections is the further roll-out of the testing campaign.
Here, the interim results are excellent:
Testing is already offered free of charge at more than 500 public locations (such as test streets) and in almost 900 pharmacies.
In addition, over 960 companies have registered to carry out in-house testing.
In the past 24 hours alone, more than 274,000 tests have been performed in Austria, including more than 60,000 PCR tests. School testing is not included in this total.
Recently, the number of new infections certainly represents both the increasing risk of infection due to an ever-increasing spread of mutations, according to Anschober.
His appeal to the population:
"We are in a difficult phase of the pandemic. Nevertheless, we want to realize opening steps. But this can only be done if we keep the pandemic under control. But of course this figure is also higher than in previous weeks due to the sharp rise in the number of tests, because the number of unreported cases is being reduced and we are screening the incidence of infection more closely than almost anywhere else in Europe."