COVID-19: Further Drastic Measures - Reduction of Social Life to a Minimum
In order to slow down the spread of the virus, it is necessary for the Austrian population to continue to take consistent measures, in particular to reduce social contacts to a minimum in the near future.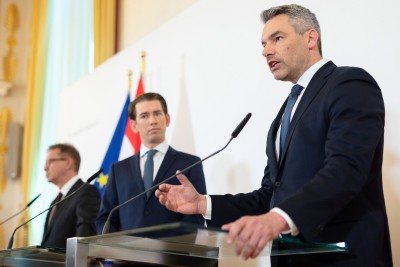 (Left to right) Rudolf Anschober, Sebastian Kurz, Karl Nehammer- / Picture: © Bundeskanzleramt (BKA) / Andy Wenzel
The federal government presented various resolutions on the coronavirus
"We are currently experiencing a challenging time in which the virus continues to spread throughout Europe and especially Austria. It is a time when it is necessary to stand together to protect the elderly", said Federal Chancellor Kurz at a joint press conference with Health Minister Anschober and Interior Minister Nehammer.
In order to slow down the spread of the virus, he said, it was necessary to continue to take consistent measures, in particular to reduce social contacts to a minimum in the near future. 
This standing together would mean for some people restriction and deceleration, for others work around the clock.
"As the Republic of Austria, we are a team in which each and every one of us has to make a contribution. From Monday onwards, we have to reduce our social life to a minimum, which is necessary in order to protect older and vulnerable groups in the best possible way," Kurz noted.
Restrictions in daily life
There will be restrictions in 3 areas.
The first area concerns everyday life. Companies will be asked to allow teleworking for employees where it is set up, starting next week. Furthermore, restaurants, bars and coffee houses will only be open until 3 pm on Monday. Shops will remain closed, with the exception of grocery stores, banks, pharmacies, post offices, pet supplies, drugstores and other areas where supplies are needed. "No one need be concerned that basic services will be compromised.
On the contrary: in discussions with entrepreneurs and representatives of the critical infrastructure, we have ensured that everything a state needs to remain functional will of course be maintained and opened," emphasised Sebastian Kurz, who also expressly thanked those people who are making their contribution in precisely these areas.
Quarantine for particularly endangered Austrian regions
The second area concerns how to deal with neighbouring countries where the virus is spreading particularly rapidly, apart from Italy: Spain, France and Switzerland. Flight connections to these countries would be discontinued and train connections restricted. Checks at the border with Switzerland and Liechtenstein are to be stepped up.
The third area concerns those areas in Austria where the virus is spreading particularly rapidly, such as parts of Tyrol.
"We must take targeted geographical countermeasures here. The Paznaun valley and St. Anton am Arlberg will therefore be quarantined for 14 days. The inhabitants of these areas with the communities of Ischgl, Kappl, See, Galtür and St. Anton am Arlberg, as well as employees and holidaymakers, will be isolated with immediate effect and, of course, provided with the best possible care," said the Chancellor. The people in these areas are at particular risk, he said, so it is necessary to isolate them, provide them with the best possible care and ensure that they do not infect others in the event of an infection.
"We are fully aware that these steps we are taking are very severe restrictions. However, they are measures that are necessary to at least slow down the spread of the virus in Austria. The measures have been discussed with all provincial governors and are also supported by all provinces", said the Chancellor, who thanked Governor Platter for his consistent stance.
Specific measures in the health sector
Federal Minister Anschober reported on current developments in Austria and pointed out that the number of illnesses had increased by an average of about 40 percent in the last few days. The Minister of Health stated: "It is our responsibility to protect particularly vulnerable groups. For these groups we are building up our protection programme that - by protecting ourselves - we also protect others and in return reduce social contacts for a foreseeable period of time. This is necessary to reduce the risk and prevent developments like in Italy.
Flight bans and border controls as security measures
Minister of the Interior Karl Nehammer reported on the quarantine measures in the Paznaun valley, where security and health forces have been ensuring an orderly procedure since the afternoon. The Arlberg tunnel is open despite quarantine. Border controls with Italy, Switzerland, and Liechtenstein were functioning, while ensuring that freight traffic continued to run smoothly.
Starting Monday, there would also be flight bans for France, Spain and Switzerland, no more flights could be allowed to Austria, the highest travel warning level would apply. The Foreign Ministry is at the disposal of all Austrians in these countries in order to ensure an orderly return journey: "All Austrians, especially in France and Spain, are requested to return to Austria in peace and quiet", said the Minister of the Interior.