Austria's Hard Lockdown: So what applies now?
The details of new COVID-19 measures were announced today. For the next two and a half weeks up to and including December 6, Austria will have a second respectively third full lockdown as in spring. What will now apply with regard to curfews, contacts, shopping, hospitals and health services, sports, professional activities, body related services, education, schools and kindergartens?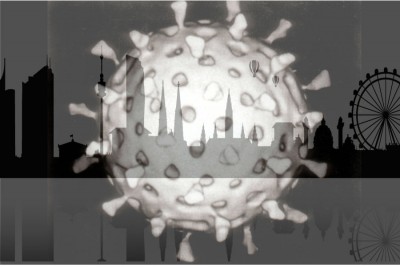 Until December 6, 2020 there will be a third full lockdown as in spring. / Picture: © Vindobona.org (Collage of Photos)
On Saturday afternoon, the government presented the tightened measures to curb CoV infection rates.
The decree ("Covid-19-Notsituationsverordnung") will be effective from Tuesday 0.00 hours and will remain in force until December 6, 2020, 24.00 hours.
From next Tuesday onwards, the current night-time exit restrictions will also apply during the day.
Contacts will also be regulated more clearly.
Apart from the members of the household, only the life partner, "individual closest" relatives or "individual important reference persons" will be allowed to meet during the second lockdown.
Care and assistance for persons in need of support and the "exercise of family rights and fulfillment of family obligations" are also permitted.
The provision of basic goods for daily life (purchases) and the use of health services are also covered by the exception of necessary basic needs.
It also includes ways of meeting housing needs and religious reasons such as visits to cemeteries and individual visits to places of worship, and the care of animals is also explicitly mentioned.
Outdoor sports still possible
Professional activities and training are still permitted, provided they are necessary.
It is also clarified that one may leave the residential area for official or judicial proceedings that cannot be postponed, as well as for participation in elections provided for by law or for taking part in referendums or surveys - and also for averting immediate danger to life, limb and property.
Walks outside are still possible. However, sports facilities for amateurs will be closed.
Sports and walks in the open air will continue to be possible.
However, all sports facilities will be closed to amateurs - including those where there is no physical contact, such as athletics facilities and ice rinks.
On the other hand, professionals will be able to participate in teams even if they have tested positive but are no longer contagious.
Hairdressers will also close
The regulation also provides for a ban on trade.
Shopping will be restricted to grocery stores, pharmacies, drugstores and tobacconists.
Banks and post offices will also be open.
According to the decree, however, services close to the body are to be closed - including hairdressers, who were allowed to keep open during the current partial lockdown.
Wherever possible, the plan is to switch to home offices.
Personal services will also close
Agricultural and pet food stores, gas stations, waste disposal companies, bicycle and car repair shops are to be excluded from the closure of the retail sector.
The opening hours will remain limited to 6 to 19 o'clock.
Religious meetings may continue to be held in the event area.
Funerals are limited to 50 persons.
Rehearsals are still permitted in the artistic area.
Contact restrictions also in hospitals
Recently, there were no numerical restrictions on visits to hospitals. According to the decree, the new regulation will only allow one visit per week and patient - and only if the sick or injured person is admitted for more than seven days.
However, pregnant women may be accompanied by one person during examinations - even during the birth.
Other rules are also provided for minors and persons in need of support.
They may be accompanied by two persons to the hospital and may also be visited there.
Hospital staff must undergo an antigen or molecular biological test once a week.
If this test is positive, there is still a possibility that they will remain in service, namely if they have been free of symptoms for at least 48 hours and it can be assumed that there is no longer any risk of infection based on a CT value of over 30. If there are not enough tests available, a higher quality mask must be worn throughout patient contact.
The same rules apply to employees in nursing homes. However, they must wear a mouth-and-nose protection throughout. Palliative care and hospice visits are exempt from the restrictions.
Schools and kindergartens also closed until December 6
The schools will be regulated in a separate decree of the Ministry of Education.
All schools will switch to distance learning by 6 December inclusive and there will be supervision (and no teaching) in the schools only in case of emergency.
After all, the students in the senior classes have already switched to distance learning since the beginning of the partial lockdown.
The kindergartens will also have to close.