Austria Wants to Drop all Covid-19 Mitigations
Austrian Minister of Health Johannes Rauch has said that he wants to end all Covid-19 regulations in Austria until springtime this year. This would mean the legitimate end of the Coronavirus-pandemic in the country.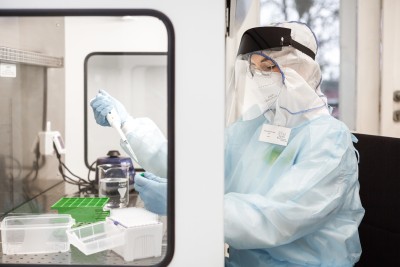 Corona Regulations Should End in the Springtime this Year, According To Minister of Health Johannes Rauch. / Picture: © Lifebrain COVID Labor GmbH / Philipp Lipiarski & Peter Hautzinger
According to Rauch, Austria should return to normal, and he also wants to learn lessons from the pandemic. Pandemic management is to be reorganized and appropriate plans were drawn up, and the Epidemic Act was amended. This is "not suitable for fighting a pandemic". The Minister of Health does not believe that Covid will disappear, but sees Austria as prepared: "We have vaccinations, we have medication, we are monitoring the variants.", as reported by ORF.
According to Kurier, Even in the rather cautious federal capital, people are quite optimistic. City Councilor for Health Peter Hacker said in a written statement: "If nothing unexpected happens, you can aim for the goal of returning to normality in 2023. I hope that the viral disease will play a part. It would be great if we could do that."
Away from the country's capital, there are currently hardly any signs of Corona regulations, even if some are still in force, but many of them do not affect everyday life. An FFP2 mask is currently also mandatory when visiting health and care facilities. In Vienna, there is also a mandatory test. Mouth and nose protection must also be worn on public transport in the capital. Rauch assumes that this obligation in Vienna will fall in a few months, as it is stated in Kurier.
According to ORF, there are currently still moving restrictions in the event of a Covid disease, those affected do not have to be in quarantine, but are obliged to wear an FFP2 mask indoors and also outdoors in close contact with people. Furthermore, the special care period applies until the middle of the year if a child cannot attend an educational institution due to a Covid-19 illness. The possibility of exemption for people with a special risk based on a Covid certificate also remained. Covid tests are also free. People can use up to five Antigens and PCR-Test monthly for free.
Covid Regulations Regarding China
In the opinion of the Minister of Health, the current wave of Covid in China does not pose a major threat to Austria. "We have taken the necessary precautionary measures. I don't currently see any signs of great danger." A central point of the Covid regulations relaxed on Sunday relates to the previously strict quarantine requirement when entering China. China still requires a negative PCR test 48 hours before departure. No one who tests positive is allowed to enter the country. However, it is no longer necessary to apply for your entry permit at the embassy, but only to submit a health declaration, according to ORF.
As further stated by ORF, around the opening of China, many countries tightened their Covid regulations for travelers from China. Just like in Japan, which has been in force for a week, Austria and several other European countries have introduced a compulsory Covid test when entering from China. In the travel advice of the Ministry of Foreign Affairs, travel that is not necessary is still advised against in connection with the spread of Covid in China.