Moon Jae-in
The Austrian government has announced the reduction of restrictions as of July 1. Three weeks later, some more relaxations could be implemented. Are the coming weeks the last ones of the pandemic? Find out more about this week's developments.
June 17, 2021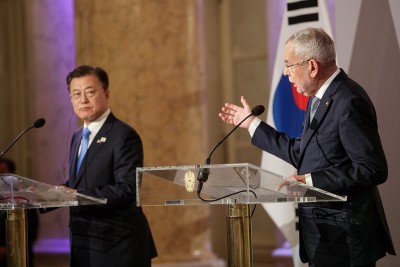 The South Korean President Moon Jae-in has met his Austrian counterpart Alexander Van der Bellen and the Austrian Chancellor Sebastian Kurz in Vienna to discuss the Covid-19 pandemic and a strategic partnership.
June 15, 2021
The two East Asian states, South Korea and Japan, which have been enemies for more than 100 years, are visited by Chancellor Kurz as part of the trip to East Asia. The trip is focusing on the economy, digitisation, education and transport. Meetings with South Korean President Moon Jae-in and Prime Minister Lee Nak-yeon are held in Seoul and with Japanese Prime Minister Shinzo Abe in Tokyo.
February 11, 2019