Ibizagate
The former head of ÖBAG and Secretary General in the Ministry of Finance, Thomas Schmid, has heavily incriminated ex-Chancellor Sebastian Kurz (ÖVP), his former close companion, in the Casag proceedings triggered by the Ibiza video and wants to become a state witness in the proceedings against Kurz. This was announced by the Economic and Corruption Prosecutor's Office (WKStA). Schmid had approached the investigators with the request, but a formal application had not yet been made.
October 19, 2022
Former Foreign Minister and FPÖ politician Karin Kneissl, who danced with Putin at her wedding in 2018, caused a stir with a tweet about the Ukraine war. Kneissl, who was considered to have good connections to Russia, was even on the supervisory board of the Russian oil company Rosneft until May.
August 25, 2022
A final chapter of the first term of the Austrian President is approaching. On 9 October, Alexander Van der Bellen will contest Austria's 14th federal presidential election and will attempt to defend his office. At Vindobona, we take this opportunity to look back on the first term of the President.
August 17, 2022
The Russian government uses the majority state-owned energy corporation Gazprom to exploit Europe's dependency on Russian natural gas, and Austria is no exception. Read how the Kremlin uses Gazprom to influence Austria.
March 8, 2022
The Austrian Freedom Party (FPÖ) has announced that it will not extend a memorandum of understanding (MoU) with the United Russia (Единая Россия) party, a nationalist-conservative rallying party. It is the party with the largest membership in the Russian Federation under party leader Dmitry Medvedev, who supports Vladimir Putin's course. However, Russia can still rely on other former Austrian politicians. Read on to see who the most prominent supporters are.
December 16, 2021 · Updated: January 4, 2022; 14:50
The resignation of Austrian People's Party (ÖVP) leader Sebastian Kurz triggers a major government reshuffle. Following Chancellor Alexander Schallenberg's resignation, Finance Minister Gernot Blümel, a longtime companion of Kurz, also announced his resignation via Facebook video this evening. Karl Nehammer is expected to take over the roles of party leader and chancellor.
December 2, 2021
Austria's former federal chancellor Sebastian Kurz (35) has resigned from all political posts. He is under investigation by the Public Prosecutor's Office for Economic Affairs and Corruption. It is rumored that Interior Minister Karl Nehammer or Europe Minister Karoline Edtstadler may take over his role as leader of the Austrian People's Party (ÖVP). Chancellor and former foreign minister Alexander Schallenberg could also be replaced.
December 2, 2021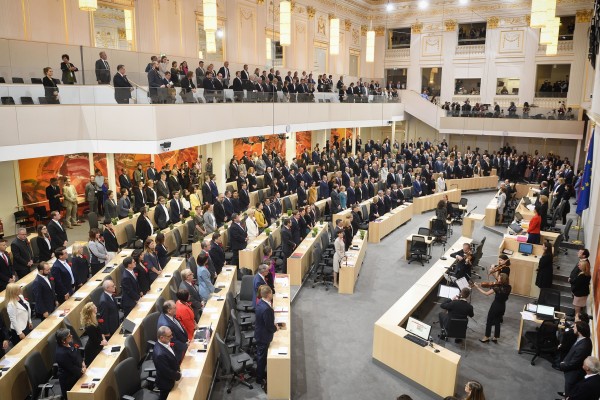 How corruptible is Austrian politics? This question was explored by the deputies in the National Council session when discussing the recently published final report of the Ibiza-Affair Investigation Committee. Although the report was unanimously acknowledged, the parties were far apart in their conclusions.
September 23, 2021
Former vice chancellor and the ex-head of the Austrian Freedom Party (FPÖ) Heinz-Christian Strache has been sentenced to 15 months' conditional imprisonment for bribery at Vienna's regional court. The co-defendant and owner of the private clinic in Vienna-Währing, Walter Grubmüller, was sentenced to twelve months for bribery, also on probation.
August 27, 2021
A secretly recorded video led to the fall of Austrian Vice Chancellor Heinz Christian Strache and Deputy Leader of the Freedom Party Johann Gudenus in May. Now the journalists of the Süddeutsche Zeitung who took part in the unveiling describe what else could be seen on the Ibiza video and how Strache was tempted to behave corruptly.
August 22, 2019