Hermann Schuetzenhoefer
The Dutch royal couple, His Majesty Willem-Alexander, King of the Netherlands, and Her Majesty Máxima, Queen of the Netherlands traveled to Vienna for a state visit. The three-day visit is mainly about strengthening bilateral relations between Austria and the Netherlands and the effects of the Russian Invasion of Ukraine on Europe.
June 27, 2022
Slovenian Foreign Minister Anže Logar and the Slovenian State Secretary for Infrastructure Blaž Košorok met with Austrian Foreign Minister Alexander Schallenberg and Styrian Governor Hermann Schützenhöfer in Ljubljana. Among other issues, the group discussed Austria's concerns with the nuclear energy industry and, more specifically, Austria's concerns with Slovenia's nuclear power plant in Krško.
August 24, 2021 · Updated: August 24, 2021; 12:22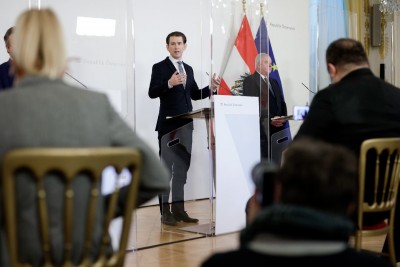 Vienna, Lower Austria and Burgenland have decided to extended the current lockdown until April 18. After discussions with experts and Austria's government, an extension of initially planned "Easter rest" was announced, because of the critical situation in the intensive care units in eastern Austria.
April 7, 2021
Austria's National Immunization Panel (NIG) has decided to repeal its restrictions for the Covid-19 vaccine from AstraZeneca. Previously, the panel had only released the vaccine for people from 18 to 64-years old, because of the lack of data for efficiency among older people. Now, however, studies have shown that the vaccine can be used for all age groups.
March 8, 2021
The Austrian government has announced some new regulations with regard to the Covid-19 situation in Austria. The province of Vorarlberg will be facing relaxations of the current regulations as early as March 15, while the rest of the country will need to wait until the end of March and April for the opening of gastronomy and the cultural sector.
March 2, 2021
Austria's State Secretary for the Arts and Culture Andrea Mayer and other representatives of the arts industry met with the authors of two German studies which concluded "that the risk of infection in the theater, cinema, opera or concert hall is a calculable one".
March 1, 2021