Romania's Foreign Minister Not Satisfied with Austria's Schengen Veto
Romania's Foreign Minister Bogdan Aurescu has expressed his dissatisfaction about Austria's Schengen block in the Austrian newspaper "Die Presse". He said that the Veto was "unjust, unexpected, and unannounced".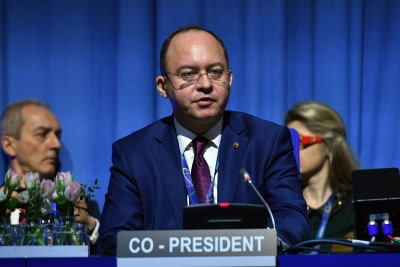 Romania's Foreign Minister Bogdan Aurescu Gave an Interview where He Expressed Dissatisfaction and a Hopefull Solution Soon about the Austrian Schengen Veto, / Picture: © IAEA International Atomic Energy Agency / Dean Calma / Flickr Attribution (CC BY 2.0, https://creativecommons.org/licenses/by/2.0/)
Romania's Foreign Minister, Bogdan Aurescu, is pushing for an end to the Austrian government's Schengen blockade. "Austria's decision to block Romania's Schengen accession was unjust, unexpected, and unannounced," Aurescu stressed in an interview with the daily newspaper Die Presse. He said it had caused "a lot of resentment" in Romania. "I hope that we will put this episode behind us as soon as possible.", according to ORF.
"Romania is not part of the problem, we always want to be part of the solution," the foreign minister noted. That is why Romania launched a series of diplomatic activities after the regional elections in Lower Austria to break the deadlock, Aurescu said. "Of the 23 EU Schengen countries I talked to, 22, all except Austria, fully support Romania's accession, especially the Swedish EU presidency.", according to Libertatea.
Romania is waiting for a "sign of openness" from Austria, he said. "It is the right time for Austria to have a constructive dialogue with Romania on Schengen accession. Romania is not a source or a transit country for irregular migration. There are problems at the EU external border, but not at the Romanian border. Romania is ready to participate in all measures aimed at curbing illegal migration and strengthening the EU's external border management."