Republic of Korea and Austria Celebrate 130 Years of Bilateral Relations
Diplomacy
♦ Published: June 23, 2022; 11:55 ♦ (Vindobona)
The Republic of Korea and Austria are celebrating 130 years of diplomatic relations today. The two close partners have exchanged more and more intensively, especially in the recent past. Read on to learn more about the bilateral relations between the two countries.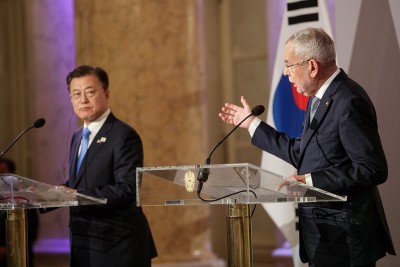 The former South Korean President Moon Jae-in and the Austrian President Alexander Van der Bellen. / Picture: © www.bundespraesident.at / Peter Lechner und Laura Heinschink / HBF
Today, the Republic of South Korea and Austria celebrate 130 years of bilateral relations. Despite the enormous geographical distance, the two countries are close partners in many areas and Austria sees South Korea as an important partner in Eastern Asia.
Today we celebrate 130 years of bilateral relations between #Austria and #Korea. In spite of the geographical distance our future-oriented cooperation in so many areas as well as great people-to-people contacts bring our countries ever closer together. @President_KR (vdb) pic.twitter.com/voYQLNLIda

— A. Van der Bellen (@vanderbellen) June 23, 2022
Political relations
Korea and Austria have now been in political contact for 130 years and have the greatest respect for each other. While Korea sees Austria primarily as a country of fine arts, especially music, for Austria Korea is much more a country of highly developed technology and rapidly growing economy.
Diplomatic relations, which were first officially established in 1892, began after the Kingdom of Korea and the Austro-Hungarian Empire signed a treaty of friendship, trade and navigation.
Since then, relations between the two countries have evolved and today are better than ever, as apart from close diplomatic cooperation in a multilateral framework, common areas of interest range from disarmament and development policies to a sustainable "green economy".
The first trade relations took place at the end of the 1960s, a time of general high spirits and economic boom. Many young Koreans, especially students, emigrated to Austria, and a significant increase in the number of Koreans living in Vienna was noticeable.
Furthermore, based on the historical friendly relations, it was agreed to expand exchanges and support in the cultural, economic and political fields.
Economic relations
In Austria, products of the "Made in Korea" brand have long been nothing new and enjoy particular popularity. Cars of the Hyundai and Kia, are a common sight on the streets, but other large South Korean brands also characterise the everyday life of every Austrian - above all Samsung as a smartphone giant.
On the other hand, South Korea has become the third largest market for export goods and services of Austrian companies in Asia, behind China and Japan. In 2018, the bilateral trade volume reached a historic high of USD 2.9 billion, with Korean exports accounting for around USD 1.1 billion and imports from Korea USD 1.8 billion.
The strongest commodity items among Korea's shipments to Austria continue to be semiconductors and vehicle parts, while Austrian exports are dominated by automotive supplies and medical supplies. In addition, Korean companies have increasingly made large investments in Austria in recent years, especially in the automotive and high-tech sectors.
The Korean conglomerates LG and Samsung have been particularly prominent in this area. By 2018, the sum of Korean investments in Austria had risen to USD 1.6 billion, while Austria invested at least USD 250 million in Korea.
In February 2019, a meeting was held between President Moon Jae-in, Prime Minister Lee Nak-yeon and then Austrian Chancellor Sebastian Kurz to promote future-oriented cooperation that would harmoniously combine Austria's science and technology with Korea's industrial as well as commercial competencies.
Especially in the tourism sector, an enormous growth could be observed. Within the last few years, the number of Korean tourists has increased by almost 300 percent. Apart from that, more than 60 Austrian companies currently have a branch office in South Korea.
Cultural relations
There has been a great deal of cultural exchange between the two countries in addition to good political relations and close economic cooperation. German is not only a popular subject in Korean universities, but it is also widely taught in schools as a foreign language. It is known that Korea appreciates Austrian culture, especially classical music with Wolfgang Amadeus Mozart and architecture with Friedensreich Hundertwasser.
In Austria, however, there has been a boom in Korean popular culture for a few years now, especially K-pop and K-dramas. There are also screenings of Korean films in Austrian cinemas, some of which have subtitles in the original version. Korean music and language are very popular in Austria.
A strong increase in Korean studies students, as offered by the University of Vienna, can also be observed in the last few years. In addition to this, Korean language courses are also offered regularly at Salzburg University and Innsbruck University. The Korea Kulturhaus, which celebrated its 120th anniversary ceremonially opened by Federal President Heinz Fischer in Vienna's 22nd district Donaustadt, is another important contact point.
A Korean school, language courses for adults, and a Korean children's and women's choir are among the many events offered here. Aside from good education, there are a number of events, including concerts and photo exhibitions, as well as a Korean school. In addition to the Vienna Philharmonic Orchestra, which was founded in 1999 by Korean music students, about 2,500 people of Korean origin currently live in Austria, with the majority living in the capital.
Besides providing a stage for young artists, the philharmonic orchestra can also educate the Austrian public about Korean culture and music. The project is intended to help strengthen the friendship between Austrian and Korean music students and at the same time promote mutual interest in the cultures of both countries.
Permanent Mission of the Republic of Korea to the United Nations in Vienna