European Forum Alpbach 2023: A Turning Point for Europe's Future
The European Forum Alpbach (EFA) is entering a new round and is increasingly focusing on topics that will significantly shape Europe's role in the world. Under the motto "Bold Europe", decision-makers from business, politics, science, art, and culture are meeting in Tyrol to work together on solutions to pressing challenges.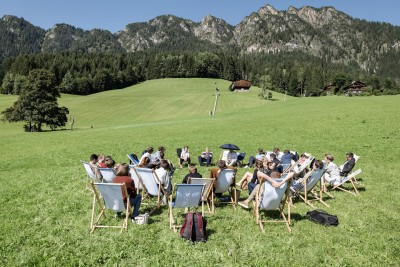 Reflection and action emerge in the European Forum Alpbach. To build a stronger, more democratic Europe, the summit brings together young Europeans and international participants in politics, business, civil society, culture, and science. / Picture: © EFA / Matteo Vegetti
Andreas Treichl, president of the EFA, emphasized the overarching goal of the forum: "Europe must once again become an economic, educational, and scientific power to be geopolitically significant." In particular, Europe's economic performance compared to the U.S. and China has declined alarmingly, he said.
The forum also discusses Europe's relations with other world powers. "Europe must be able to independently determine its position vis-à-vis Russia and China," Treichl opined, supporting French President Emmanuel Macron's statement, albeit under different circumstances.
"Our goal as the Presidium is to make Alpbach even more international, younger, more diverse, and more solution-oriented," Treichl concluded in the prelude to the forum. The European Forum Alpbach 2023 could be a turning point for the European agenda. It offers not only a platform for urgently needed dialogue but also for personnel and organizational renewal that could shape Europe's future.
The "next generation"
More than 600 scholarship holders between 18 and 35 years of age from over 80 countries, including students, young entrepreneurs, and activists, were welcomed at the festive start of the EFA, the "Welcome Ceremony", in Alpbach.
Young people are expected to play a leading role in this dialogue, especially on issues of data sovereignty and democracy. "The next generation must have the chance to discover and implement common solutions. This is what Alpbach was created for and this is what we will continue to fight for," Treichl said.
After the five-day seminar program, scholarship holders are allowed to exchange ideas with high-ranking and inspiring personalities for ten days to absorb knowledge and form their own opinions. Our network, which is now represented on almost every continent, with over 8,000 members in our Alpbach Clubs and initiative groups, is designed to help ensure that the next generations, regardless of their political preferences, want to and can shape their future together.
Innovations in the Forum
The EFA has expanded its program: During the EFA Lab Days, experts work on concrete solutions. In addition, events such as Hikes, Chats, and Stages are planned to promote exchange among international visitors.
Time is being measured in Alpbach and it is faltering enormously, as Forum President Andreas Treichl diagnoses: "We have been at a total standstill in Europe for 15 years. I believe that with the current set-up of the political system, we do not have the chance for a stronger and better Europe. I have given up hope in the middle-aged generation that we can change this. My hope is in the young generation to bring Europe back on a successful track," Treichl stated in front of 400 postgraduates invited to Alpbach from all continents. "The unanimity principle must be abolished," Treichel appealed flamingly. For three days, the young people at the inaugural "Lab Days" let their heads smoke for a bold Europe, and above all for a peaceful Europe.