Emir of Qatar Struggling for Survival Visited Vienna
The 38 year old Emir of Qatar, Sheikh Tamim bin Hamad Al-Thani, who 5 years ago ascended the throne as successor of his father Hamad bin Khalifa Al Thani and is now fighting under pressure of his neighbours, especially Saudi Arabia, for the survival of his monarchy, came to an official visit to Austria to talk about business.
Tamim bin Hamad Al Thani meets Alexander Van der Bellen and Karin Kneissl / Picture: © www.bundespraesident.at / Carina Karlovits and Daniel Trippolt/HBF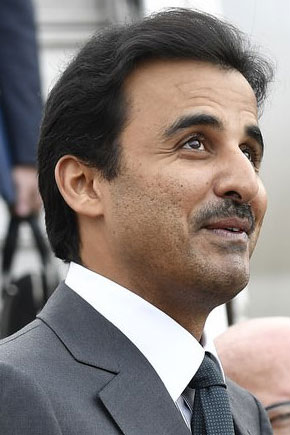 The Emir of Qatar, educated like his father at Royal Military Academy Sandhurst in the UK, has three wives and 10 children, and lives in several luxurious palaces in Doha, the futuristic capital of the State of Qatar.
He was received with military honours by Federal President Alexander Van der Bellen.
A political crisis has been smouldering in the Gulf region since…