Embassy and Permanent Mission of Nepal in Vienna, Austria
Organizations
›
International Organizations
♦ Published: September 19, 2018; 10:18 ♦ (Vindobona)
The Embassy and Permanent Mission of Nepal in Vienna's 4th district was opened in November 2017. In addition to serving as the residential Embassy of Nepal to the Republic of Austria, it is also concurrently accredited to Albania, Bosnia Herzegovina, Croatia, Macedonia, Montenegro and Slovenia.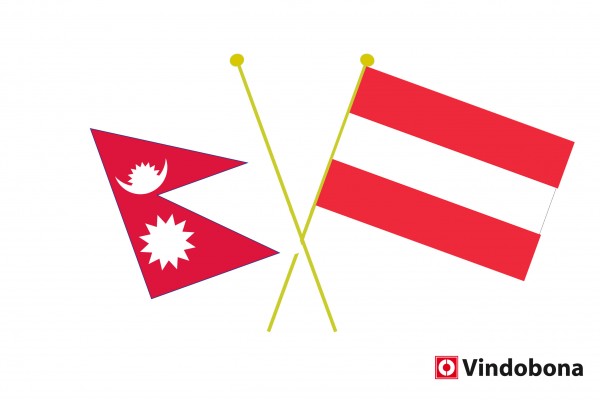 The flag of Nepal is the world's only non-quadrilateral national flag. It is a combination of two single pennons (double pennon). Its crimson red is the colour of the rhododendron, Nepal's national flower, while the blue border is the colour of peace. / Picture: © Nepalese and Austrian crossed flags by Vindobona
At the multilateral front, as a Permanent Mission it represents Nepal at the United Nations Office at Vienna as well as at three other specialized agencies, IAEA International Atomic Energy Agency,       Preparatory Commission for the Comprehensive Nuclear Test Ban Treaty Organization and UNIDO United Nations Industrial Development Organization.
EMBASSY AND…