AACC has organized a Business & Innovation Panel held at Palais Eschenbach
The Austro-Arab Chamber of Commerce (AACC) organized a high-level Business & Innovation panel which was held in the United Arab Emirates. Speeches were made, highlighting the good business relations between UAE and Austria.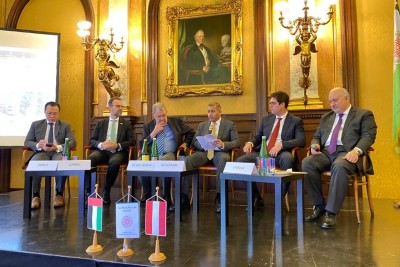 The AACC has organised a meeting in Palais Eschenbach. / Picture: © Austro-Arab Chamber of Commerce (AACC)
The AACC organized a high-level panel entitled "New Business Horizons and Innovations in the United Arab Emirates". The event was held in person at Palais Eschenbach in Vienna and online simultaneously via Zoom. Featuring over 60 participants in-person as well as online, the panel was moderated by AACC Secretary-General Mr. Mouddar Khouja and attended by Arab ambassadors, diplomats, prominent people, as well as regular members of AACC.
President of AACC Austria, H.E. Senator Dr. Richard Schenz, welcomed the distinguished guests and highlighted Austria's longstanding historical relations with the UAE, dating back to the late 1950s, when prominent Austrian companies were instrumental in establishing Dubai Seaport and various infrastructural projects. The Ambassador of the United Arab Emirates to Austria, H.E. Hamad Alkaabi, highlighted the strong bilateral relations between Austria and the Emirati countries and the strengthening of diplomatic, cultural, and economic ties between the two countries through the signing of a "Comprehensive Strategic Partnership" in 2021. Alkaabi mentioned that the Austrian Chancellor met with the UAE's president in Abu Dhabi, on the occasion of which a joint declaration and a Memorandum of Understanding were signed.
In addition to the investment outreach and facilitation efforts conducted by the Emirati Ministry of Foreign Affairs and in collaboration with all relevant stakeholders, Alkaabi also discussed the "Invest Emirates" initiative. He referred to the initiative's website, www.investemirates.ae, which provides a wealth of information about the UAE's economy, business environment, opportunities in priority sectors, foreign direct investment incentives, legal framework, and corporate structure. Later on, a UAE taxation landscape were presented by Mr.Mark Susilo, tax partner at the Crowe UAE, and Mr. Alessandro Valente, director at Crowe UAE. This taxation landscape presented opportunities for foreign investmentor operating in the GCC countries, according to the AACC website.
The AACC was founded in 1989 with its headquarters in Vienna, and it supports a range of businesspeople, private individuals, companies, enterprises, and organizations. By supporting economic, scientific, and cultural relations between Austria and the 22 members of the League of Arab States for more than 30 years, the AACC promotes economic, scientific, and cultural cooperation.The organization maintains relationships with economic and trade chambers in Arab countries as well as Austria, as well as ministries of commerce, trade, and technology, as well as official institutions of investment, and international organizations such as OPEC, OFID, and UNIDO.