Sponsored
Article Tools
19th Century Japan - Place of Western Longing and Enthusiasm
Published: November 5, 2018; 19:24 · Updated: November 23; 17:00 · (Vindobona)
The exhibition "Fascination Japan" of the Kunstforum is dedicated to "Japomania" - the Western world's enthusiasm for the aesthetics and imagery of the Far East. It traces the development from the fascination for the exotic, the novel, from the beginnings in the 1860s until well after the turn of the century, to its amalgamation into the formal vocabulary of Western painting, the influence of its aesthetics on the development of modernism around 1900.
"Fascination Japan" illuminates the booming enthusiasm of the western world in the late 19th century for exotic objects, fabrics and woodcuts from Japan. (Kasushika Hokusai - 36 Ansichten des Berges Fuji: Unter der Welle bei Kanagawa, um 1830) / Picture: © MAK - Austrian Museum of Applied Arts/Contemporary Art/Georg Mayer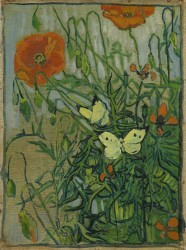 As early as the 1860s, the elegantly exotic aesthetics of everyday objects, exquisite textiles, and above all the imaginative and narrative ukiyo-e, the brightly coloured woodcuts, conquered the European market and fulfilled the public's longings for an unknown culture and a new aesthetic.
From their elegance and sparing formal language emerge essential aspects of the aesthetics of the turn of the century and the emergence of modernism - which can ultimately be traced back to contemporary art.
Above all, artists began to collect and integrate the strange vocabulary of forms, the astonishing themes and motifs into their pictorial language.
Starting from France, the exhibition also pursues the "fascination of Japan" in Austria, Germany and the Netherlands.
Consequently, the artists in the exhibition also form a broad spectrum: Edgar Degas, Claude Monet, Vincent Van Gogh, Pierre Bonnard, Gustav Klimt; and Wassily Kandinsky, Paul Klee, James Ensor, George Hendrick Breitner, and Mary Cassatt, to name the most important.
Contemporary reflections on the motif of the "tea house" of the Austrian artists Margot Pilz, Eva Schlegel and Stephanie Pflaum in the exhibition counteract the patriarchal culture of historical Japan.
From Paris, Japomania conquered the whole of Europe - in Austria, too, a veritable hype developed around Far Eastern aesthetics, starting with the Vienna World's Fair in 1873, which also inspired Gustav Klimt and Egon Schiele.
As a result, the inspirations from the Far East led to an independent interpretation and conversion into a new formal language leading into the emerging modernity of the 20th century - in which the tendencies towards abstraction and the overcoming of conventional pictorial space were independently further developed.
The exhibition shows paintings and prints, but also objects and furniture, and juxtaposes the European works of Claude Monet, influenced by Far Eastern aesthetics, Edgar Degas, Gustav Klimt or Henri de Toulouse-Lautrec, the Nabis and the Blue Rider, Japanese woodcuts, screens and objects.
Around 100 exhibits from international public and private collections provide a broad overview of the phenomenon of "Japonism" that spread throughout Europe from the late 19th century to the beginning of the avant-garde.
Curator Evelyn Benesch presents the exhibition ( in German only) / ©Bank Austria Kunstforum Wien
Exhibition Name:
Fascination Japan: Monet. Van Gogh. Klimt.
Location:
Bank Austria Kunstforum Wien
Freyung 8
1010 Vienna
Austria
T: (+43 1) 537 33 26
F: (+43 1) 537 33 27
E: office@kunstforumwien.at
Duration:
Until January 20, 2019
Opening Hours:
Daily 10am – 7pm
Friday 10am – 9pm
Further information is available at: https://www.kunstforumwien.at/en/exhibition/kunstforum/259/fascination-japan