Rajiva Misra
The Indian Minister of Railways, Shri Suresh Prabhu paid a visit to Austria. In an event organized by the Chamber of Commerce H.E. Mr. Prabhu met with CEOs and Austrian Railway Companies to discuss possible further India-Austria cooperations in the field of railways technology.
July 21, 2016
Recently the Foreign Trade Department of the Austrian Federal Economic Chamber organised an event focused on India. Entitled "Parameters for Your Success with Business in India", the event counted with the participation of ca. 70 Austrian companies and entrepreneurs aiming for India or potentially being interested in doing business there.
December 3, 2015
As part of the trade promotion initiative of the Department of Foreign Trade of the Austrian Federal Economic Chamber and the Ministry of Economy "Going International - Going to India" the Federal Economic Chamber (WKO) together with the Austrian Trade Commission in Delhi, organized "Forum Alternative India" in Vienna, in Linz and in Graz.
May 28, 2015
With the aim of bringing Austrian and Indian business people together to strengthen the bonds linking Vienna/Austria and India, the Embassy of India, in cooperation with the Vienna Business Agency, welcomed several guests in the context of the "Make in India: Starting in Vienna" event held at the Vienna Expat Center.
May 5, 2015
Yesterday evening at the Indian Embassy in Vienna, Ambassador Misra has presented himself to the international public.
May 15, 2014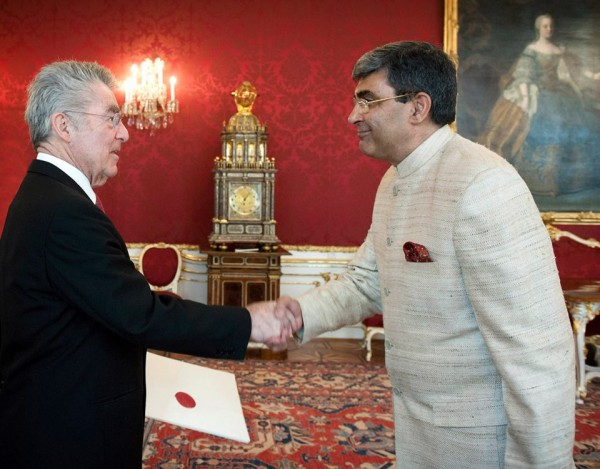 Ambassador Rajiva Misra presented his credentials to Dr. Heinz Fischer, the Federal President of Austria on 14th March and took charge as India's Ambassador to Austria and Montenegro, and Permanent Representative of India to the International bodies in Vienna.
March 14, 2014